Lead acid batteries come in a variety of types and the most frequently used ones in
homemade electric cars
are tubular deep cycle batteries designed to hold the electric charge for prolonged periods without the necessity of renewing their charge by trickle or regular recharging. This especially suits their use in electric vehicles (EV) which are not used on a daily basis.
However, since they also contain liquid electrolyte in the form of dilute sulfuric acid, they need continuous maintenance. When they do finally fail or show signs of failing, their replacement costs are high and it is therefore economical to get them reconditioned at much lower price.
Reconditioning technique in the case of deep cycle batteries is not very difficult to master and one can attempt to do it as a DIY project, if the right tolls and knowledge is available to you. One of the first requirements is to get a suitable external multi-phase battery charger of the right capacity.
You would also need accessories like vice grips, crescent wrench, steel wool, glass funnel, bucket and protective rubber gloves. Certain chemical materials like baking soda, distilled water and Epsom salt are also needed. Once all these are ready, we can start by following the below instructions meticulously.
First, the external battery container needs to be checked thoroughly for any cracks or signs of leakage. If any leakage is detected, avoid touching the battery with bare hands and ensure rubber gloves are used for the task.

Disconnect the positive and negative leads connecting the terminal to the battery and remove the battery from its holding compartment. The battery housing and the terminals are to be thoroughly cleaned using a paste of baking soda and water to remove any traces of acid. Wherever necessary use steel wool to apply the paste.
Now remove the plastic breathing plugs on top of the battery and carefully drain the cells into a bucket without spilling. Certain brands of batteries are sealed and come without screwed plugs, but may have soft depressions on the top.
Drill these with a ¼ inch drill to open them and drain the electrolyte. Make a solution of eight ounces of Epsom salt in a quart of distilled water, without leaving any crystalline residue, stirring vigorously if required.
Using the funnel pour this solution to fill up each cell and recap them when plugs are available or in cases where holes were drilled to drain the battery, use rubber plugs easily available in most auto parts shops. Now connect the battery to the multi-phase battery charger using appropriate clips.
Since deep cycle batteries take longer duration for the charging process, avoid using the "quick start" feature if provided in the charger. Once the battery is fully charged, remove it from the charger and reconnect to your vehicle in the normal way.
Try to keep the charge by driving around slowly for a few minutes at a time. During the next few days inspect the battery regularly and repeat the charging process if required for full long duration charge. Adequate precautions like avoiding the reconditioning procedure in enclosed small spaces, wearing of safety eye glasses and use of rubber gloves will go a long way in ensuring safety.
DIY Deep Cycle Battery Reconditioning Guide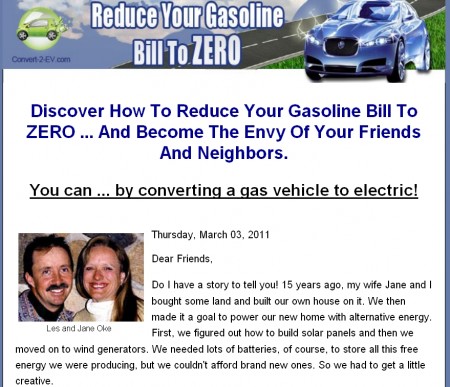 Do you want to know how to save cost on your DIY electric car conversion project by reconditioning old deep cycle batteries? If you do, check out the Convert2EV guide book by Les and Jane Oke.
The Okes have been living a green lifestyle for more than 20 years. One way to reduce their carbon footprint is to drive a homemade electric car. The Convert2EV ebook was written based on their personal experience retrofitting conventional automobiles into EVs on a small budget. Click on the link below to visit the Oke's web site now.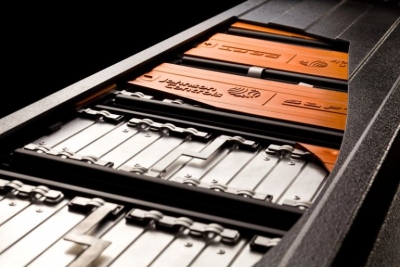 If you are planning to start your own small business that you can run from the comfort of your home, why not start a battery reconditioning business. Battery reconditioning enterprise is a niche market with a strong demand which you can start with relatively small capital.
Why would the battery recon business be a good niche market? There is a growing trend in home solar power system and also the introduction of many pure electric cars on the market. This is a huge opportunity because both use a large quantity of batteries to store power. Sooner or later, these batteries would become less efficient and the owners will be looking for services to recondition them.
If you are looking to start your own battery reconditioning business, learn the trade of the markets from someone who's already done it. He is Kevin Dixon or more commonly known as The Battery Geek.
Kevin Dixon is a certified electronic technician in the biomedical and industrial fields. He worked in the R&D department of an established company that manufacturers pacemakers and implantable defibrillators. Dixon has also worked at NASA and Texas Instruments in the field of battery and electronics research. With more than 15 years of experience in the field, he can be considered an expert on batteries.
Getting Into The Battery Reconditioning Business
In his line of work, Kevin has met many people who inquired how to reconditioning a weak or dead battery. Since they've investment a large sum of money to buy the batteries, they want to get the most out of their money by extending the life of the battery. From that, Kevin decided to take a risk and venture onto the battery reconditioning business.
After a couple of years and having grown his business, Kevin Dixon decided to write the Battery Reconditioning Report to teach other people who has interest in following his footsteps how to do so. In his manual, Kevin will show you how to:
Recondition rechargeable batteries.
How to bring dead batteries back into service life.
Measure a battery charge capacity.
How to revert a reversed cell.
How to tell if a battery needs to be reconditioned.
How to recondition batteries with inexpensive tools.
There are many more information covered in the Battery Reconditioning Report. Kevin's guide covered both Ni-Cd and Ni-mh batteries and also a special section on reconditioning car lead acid batteries.
If you want to start your own battery reconditioning business, be sure to check out Kevin Dixon Battery Reconditioning Report. The e-book is now selling at a special introductory price of only $49.97. Get it now before they increase the price.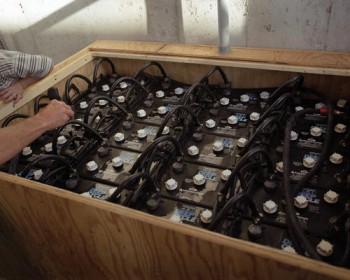 Do you use deep cycle batteries at home? This type of battery is the best if you are using a home solar power system. Deep cycle batteries or marine batteries are excellent for residential solar energy system because it is very durable and can be discharged to a very low level without damaging its internal plates.
However, compared to regular lead acid batteries, deep cycle batteries are more expensive. A normal battery bank at home would have at least 6 – 12 units of batteries. Hence, the cost of setting up the backup power bank can be quite high.
To save guard your investment, wouldn't it make sense to take care and maintain the batteries properly? It does and in order to extend the life of the battery, you must know proper maintenance procedures.
Deep Cycle Battery Maintenance Guide
If you are looking for a deep cycle maintenance guide, you should definitely check out the Electric Golf Cart Battery Guide from www.golfcartbatteryguide.info/.
The e-book was written primarily to take care of electric golf cart batteries. All golf carts use marine batteries therefore the information is excellent to take care of regular deep cycle batteries used for homes as well.
The best option to keep your battery bank working properly is to prevent any breakdowns from happening in the first place. In order to go so, you must have a proper maintenance schedule.
But before that, you must know what are the common problems when you are using deep cycle batteries. When you know these problems, you can take steps to prevent them from occurring.
The objective of the Electric Golf Cart Battery Guide is to help you to maximize your Return On Investment (ROI) on your battery investment. In order to do so, the author has outline the right maintenance and inspection steps that you should follow.
The e-book consists of more than 40 pages of concise information on deep cycle battery care down to the right ways to dispose of old batteries.
If you are planning to buy deep cycle battery maintenance guide, check out the manual. It is relatively cheap, costing only $19.95 a copy. As an added value, the battery guide also comes with a 60 days money back guarantee policy. If you don't see any value in the manual, you can ask for a full refund within 60 days from your purchase date. For more information, click on the link below.