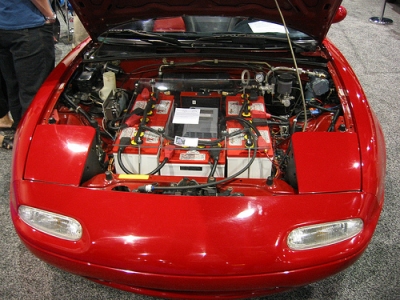 If you are considering to build an electric car from your home garage, how are some tips for you. Driving a [tag-tec]pure electric car[/tag-tec] is not the same as driving a car with an internal combustion engine (ICE). The key difference is the actual driving mileage.
A car running on fossil fuel was invented more than a century ago. Since then, large corporations have invested heavily on refueling infrastructures such as refineries and gas station.
Therefore, driving a car with an ICE in the modern day is very convenient. If you were to run out of fuel, gas stations are everywhere.
For a pure electric car, the situation is very much difference. Electric vehicle (EV) would have to carry its own power source in the form of battery packs. Usually, if you are building an electric car, you will use acid flooded deep cycle batteries.

These kind of batteries can only hold a limited amount of electric charge. An average DIY electric car would use 10 – 15 units of batteries.
On a full charge, the homemade electric car will be able to travel up to 100 miles. The actual mileage will depend on a few factors. The key factors will be the weight of the car and the condition of the battery.
If you were to build an electric car from your garage, you must understand its limitation. You would be able to drive approximately 100 miles before you have to recharge.
It will be challenging to find a power outlet point in the middle of the street. Hence, you have to plan your trip carefully. If you need an EV just to drive around town or for short commute, an electric car will do just fine.
Electric Car Conversion Guide For Beginners
Before you start building an electric car, it is a good idea to get some information. One of the top electric car conversion guide on the web is Gavin Shoebridge's Electric Conversion Made Easy e-book.
Gavin is from New Zealand and is well known for his electric car conversion videos on YouTube.
In his manual, Gavin goes through step-by-step how he converts his 1987 Mitsibishi Tredia into an EV.
Related web sites:
1) Electric Auto Association – Electric Vehicles and Cars