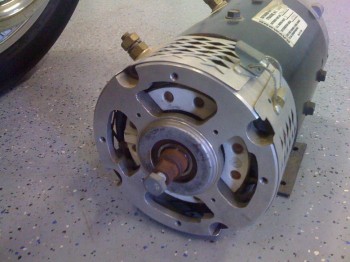 Inexpensive Electric Motor For DIY EV Conversion
If you are looking for a cheap electric motor for your DIY electric car conversion project, why not consider using an old electric motor from a forklift.
Where can you find this type of electric motor? Well, at forklift service workshops of course. But not all forklift electric motor can be used on a homemade electric vehicle (EV).
When you are going through old forklift electric motors, look for something weighing in between 100 to 150 lbs. If you have a heavy donor car with lots of deep cycle batteries, you'll need a big motor to push it around. Obviously, a bigger electric motor weighs more.
Here's a tip. Look at the core of the motor. You want to see insulation that is wine colored with yellow banding. The brush leads should still have its copper color and should not be scotched. The commutator should not have any grooves or pitted because that is a sign the motor has been over used.
Here's another tip. Look for armatures that have a commutator with a big bar count. A large bar count means the motor can handle higher voltage. Higher voltage means more power for your electric car but it will drain your battery bank faster.

If you are looking at a series motor, have a look at its solid field leads. Make sure you are not getting a sep-ex or compound would motor that may not suit your needs.
Finally, inspect the shaft of the electric motor. This is one of the biggest issues when using a forklift motor on a homemade electric vehicle. Make sure the shaft is something which you can modify and attached to the transmission. Replacing the entire shaft is a tough procedure and it takes a lot of time.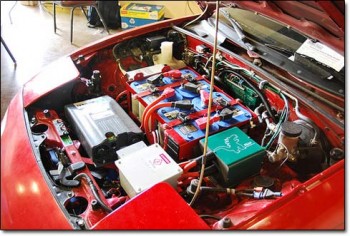 When shopping for an electric motor, if you need to, take off the cover of the motor to have a better look at the inside. Go through all the internal parts making sure they are in good conditions.
Some time we get so excited and eager to buy the forklift electric motor for our EV project but end up getting something not suitable.
Homemade Electric Car Conversion Guide
Want to know how to convert a gas driven car to run purely on electricity? If you do, check out Gavin Shoebridge's Electric Conversion Made Easy e-book.
Gavin is from New Zealand and is known as the "EV Guy". His guide will show you what are the parts and components needed for a DIY electric car conversion project. For more information, click on the link below.