Toyota Prius Battery Replacement
Do you want to know the Toyota Prius battery replacement price? The answer is…expensive!
If you drive a new Toyota Prius model, having to get the battery pack replaced may not be a problem. In actual fact, the batteries in the Prius will last up to 100,000 miles or 8 years for whichever comes first.
But why would you need to replace the battery pack of the Toyota Prius? One of the biggest causes is accidents. Even though you are driving a hybrid car, you will get into an accident if you are not careful on the road. If you are unlucky enough to crash your Prius, the battery casing may crack and you have to get it replaced.

The cost of getting a new Toyota Prius battery system varies. The price to get a replacement battery for the first generation Prius ranges from $2500 upwards. If the replacement involves major reconstruction on the support structure, you may have to spend as much as $4000 to get it replaced.
Luckily, there is a steady supply of High Voltage nickel-metal hydride battery packs for the Prius. These batteries usually come from wreck vehicles which you can get for $1000 or below depending on its condition.
A used battery usually is not in the best condition and it will have reduced power, thus affecting the performance of your Prius. Nonetheless, if you need to replace the battery pack on your Toyota Prius and you don't have the money, this is one option that you may have to consider.

Toyota Prius Battery Replacement Guide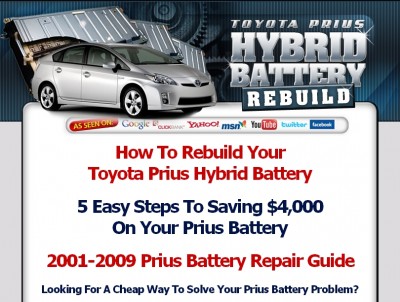 Is there a cheaper option to replace the battery pack on a Toyota Prius? As a matter of fact, the guys at www.hybridbatteryrebuild.com can get the battery replaced for under $500. Want to know they can get it done so cheap? Click on the link below to learn the answer.