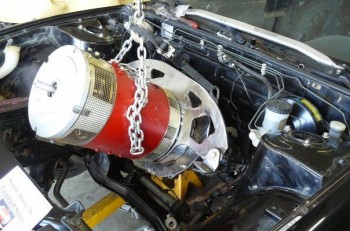 It is not likely that the prices of oil and gas are going to come down anytime in the near future. This has resulted in car manufacturers and others doing research look into other options that mean cars that are less costly, consume less fuel and consequently reduce expenditure thereof, and increase savings.
The electric car is a vehicle that offers the same advantages as any conventional vehicle that runs on gas and yet saves you a lot of money. There are electric vehicle conversion kits that are available and allow your cars to run on electricity.
Electric car owners do not have to worry about spending on petrol from time to time nor do they need to set aside a budget separately for petrol. They also enjoy additional benefits such as a noiseless drive, less money and time spent on traveling, and being able to drive at high speeds.
To top it all, the electric car is emission free. It is environmentally friendly and the best way to go green.
Buying Electric Car Retrofitting Kits
You have the option of converting your car to run on electricity by using do-it-yourself kits. If you are not confident enough with DIY kits, you can always buy off an electric car from a suitable manufacturer.

The third option is to buy premade
electric car kits
that can be fit into your vehicle to turn it into an electrically powered vehicle. Canadian Electric Vehicles is a company that sells electric premade car kits for such a purpose. Universal and Custom kits are the two types that are available.
Whereas universal kits are made to suit most vehicles such as smaller trucks and cars, the custom kits are specifically made for a single type of car. They cannot be used on any another type of vehicle or another car.
The universal kit comes along with all accessories such as the cables, DC motor, charger, circuit breaker, pot box, shunt, etc. The custom kits are more suited for those vehicles that are made differently than others.
Some examples are the kits made for Nissan, Chevy, Ford, etc. The construction of such vehicles may require additional or customized equipment to effectively convert them into electric powered cars. An example could be the different drive system, the boxes, and the battery rack.
Some additional points to be kept in mind when getting a conversion kit for your vehicle are the following. First of all purchase the right kit for your car that has suitable tools and additional parts. There should be enough space in your vehicle to be able to place the batteries.
Make sure that there is allowance for ventilation in terms of air space. After installation of the kit, it is strongly recommended to first perform a system recheck. Then thoroughly check to ensure correct set up and working of the electric kit.
Keeping away from bumpy and rough roads, when driving such cars, ensures that no part of the electric kit is damaged and lasts longer. It is recommended that batteries be charged once every three years.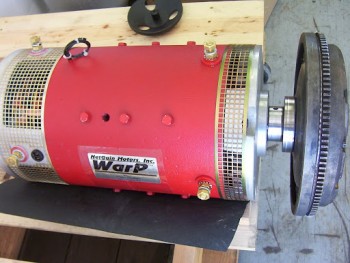 An electric car conversion kit will allow you to run your car which otherwise you will drive using gasoline into an electric vehicle. Most of the kits are available in the market with vendors; you can get all the components if you are interested in retrofitting your automobile to run on electricity. These kits can be installed by you without any outside support.
Before you actually go to buy the kit, you must research well and find the cars which are more suited for such a conversion. After having installed the electric kit, your car should run as per your needs.
Before you actually decide to convert your vehicle into an electric vehicle (EV), here are some tips which you should keep in mind so that you get the most out of your "green" car.
Majority of the cars have a limit of driving from 30 and 100 miles, this is affected by the driving conditions and weight of the car. The car suits those who have to commute in this range and conversion will highly benefit them.
There are other options also as those who have two cars and one is used only for short trips, conversion to electric kit is the best alternative. This will save a huge amount on the costs of gasoline annually.

For those who have to commute more than 30 miles one way and the terrain are rough and hilly, the conversion will not suit you. But for those who have a driving needs of around 20 miles and the road is good and other conditions are normal, the conversion can be really beneficial for them.
Remember that electric cars have to be charged overnight so that you can use it next day. For charging you need a garage or a carport which has suitable electrical outlets. Most of the car can run up to 25 miles per gallon ratio; the top speed is as good as that of gas powered vehicles and can accommodate four passengers comfortably.
The normal cost is within $10,000 but batteries need to be replaced annually and the cost is around $300 each. Before you go for conversion you must keep all these expenses in mind. Those who are interested to know about the conversion of their vehicles into pure electric vehicle, they can attend various schools which teach the subject of EV conversion.
Such courses are quite useful and will help you to reduce the mistakes when installing the electric conversion kit. They also give you a fair idea about the total cost and actually help you in finding the suitable kit.
If you find it difficult or do not have mechanical ability, you can seek the help of an expert mechanic who can help you in the installation process. There are many companies which are in the business of converting your car to an electric vehicle; if budget permits you can also seek their assistance.
There is a lot of material available on the internet, you may browse online and get the desired information. Once done, you will have great satisfaction in terms of saving money and also contributing to the environment.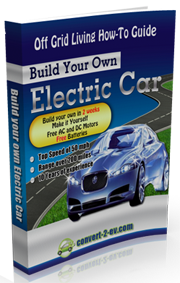 For more information on homemade electric car, check out the  Convert2EV ebook by Les and Jane Oke.
The Okes are from Canada and they have been living a green lifestyle for more than 15 years. The guide was written based on their experience on retrofitting automobiles to run purely on electricity. For more information on electric vehicle conversion, click on the link below to visit the Convert2EV web site.

Before you get started on a homemade electric vehicle project, please research all you can about electric cars by getting information from the library or from online. Once you have a general idea, then you can get to work!
Will you have a hybrid of gas and electric or a complete electric car? A hybrid car has an electric battery and a gas engine that works together to power the car. While the hybrid can drive for short distances using just battery power, it's not good for touring.
A fully electric car makes it difficult to drive much longer distances as you will need to eventually recharge. For trips around town, it is doable.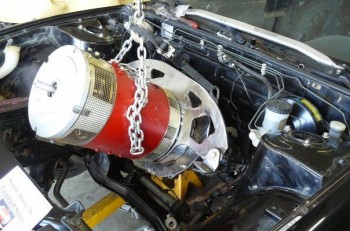 To create such a car, you can try using solar power. What happens when it is cloudy? Although it isn't completely off the grid, you can plug your car's battery to recharge the solar cells.
Plugging your car into any outlet won't work as the car will need much more power. A standard household socket can charge the car but it will take longer. You will need a dedicated charger.
Advances in battery technology makes lithium batteries most suitable for electric cars. It holds a charge much longer and is better for driving longer distances.
To store energy in lithium batteries, using wind or solar power can charge them while being completely off the grid. When charging is complete you can drop the battery into the car and drive wherever you need to go. It is a great option for backup batteries that you can store for later use.

You can use solar, deep cycle, airplane, and golf cart batteries. Golf cart batteries are the best and cheapest to use. To determine how many batteries you need, you need to figure if you are using DC or AC conversion.
Using lithium batteries have no need for DC/AC conversion. Lithium batteries aren't cheap, but it lasts the longest.
To make an electric car, you will need a donor car (preferably a newer model as parts are hard to come by for older cars) with lots of room for battery cells. Depending on the battery you use will determine how fast the car will go, how much electricity it can contain, and how big of a space you need to build the engine.
The car must have a manual transmission for the conversion to work. Having a car that is light in frame is best.
Purchase a conversion kit.
An EV conversion kit has everything you need and the costs are reasonable according to what size and actual parts you need. In spite of the fact that you can use surplus parts, it's best to buy something already readymade. When acquiring parts, remember, buy from reputable dealers. You just don't want any old part to put into the car.
You will also need some mechanical know-how as converting a gasoline powered car to electric is quite a task. The transmission adaptor plate and assembly that fits the motor is quite precise. If you don't know what you're doing, take your project to someone who does, but with a conversion kit and following instructions you can do the retrofitting yourself.