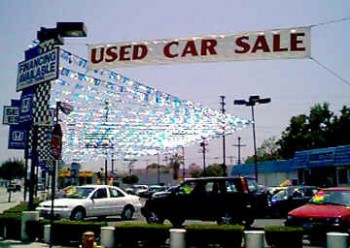 Buying a used car can be a real money saver provided you lay your hands on a good car; you can really enjoy the drive and will not have to worry about small scratches and large bank repayments.
Before you actually go for a car, you must see that the previous owner has maintained the car well and the car is in good condition. You must also ensure that you are not purchasing car from a rogue dealer, but go to a reputed dealer who is trustworthy and reliable.
Most of us do not have good knowledge of used cars and may end up purchasing a junk. These tips can really help you in getting a good vehicle. You must look at your budget and see how much money you want to spend, looking for a used car on the internet auctions or visiting several dealers will help you in identifying the car which you are looking for.
You must keep in mind your budget; never spend more than your budget, which will make you short of money. When you intend to purchase car from the car yard, be firm about the limit of your spending. Once you sure how much money you want to spend on the used vehicle, spot the right car and ensure you are getting a quality vehicle and not junk.

If you have no or little knowledge of the cars, never shy to take some good mechanic or an expert with you, even if you have to spend some money on it. You can also prepare a list of questions and ask seek answers from the seller, this very important when buying from the dealer. This move will give an impression that you have sufficient knowledge about cars and chances are you will not get cheated.
Purchasing cars from various sources is possible these days, you can go to a dealer or buy it from a private seller. Now for the last many years cars and sold and purchased over internet, you can purchase through internet auctions. May such auction sites are sponsored by financial companies and you can get amazing bargain.
Majority of the cars sold in these auctions are couple of years old and are in excellent condition depending upon the owners how well the owner has maintained it. These tips can save you from getting cheated by rogue dealers, it always good to research well so that you do not lose your hard earned money.
Buying any car is a huge investment, you must always look that you invest in the right product. There are good and bad dealers also, if buying from a dealer, ensure that the dealer is trustworthy and reliable.
Getting extended warranty is also good; this will give you peace of mind in case of future repairs. Spending some money on extended warranty is a safe investment, ensure you read the warranty carefully and understand the terms and condition of the warranty. Remember a stitch in time saves nine. Be careful and enjoy safe and pleasant drive.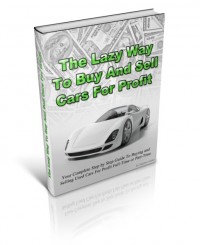 Are you looking for ways to get the best deal from buying a used car? If you are, check out The Lazy Way To Buy & Sell Car For Profit by Stephen Hobbs ebook.
Hobbs' guide will show you how to make a steady profits of $300 to $3000 from buying and selling used cars on a full-time or part-time basis. Click on the link below to visit his web site right now.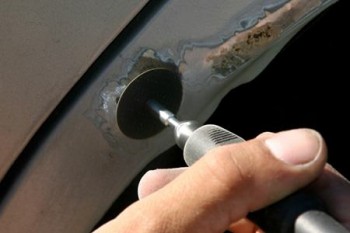 When you combine water and iron (including steel) you get rust. Rust is a result of reaction between water and iron in the presence of oxygen. The more rust there is the faster it will keep rusting.
Given enough time, rust will destroy anything made of iron. Once rusting starts, it is difficult to stop. The best way to protect iron products is by coating them properly. Once rusting begins the only way to stop it is to completely clean the rust away.
What exactly is rust? Rust is hydrated iron oxide. Oxygen, water and iron react to form this compound. It first appears as brownish coating over the surface of iron products.
Rust will bubble paint or other coatings off the iron or steel. Rust also leaves ugly stains on any surfaces in contact with the iron. It will also destroy the iron making it weak and fragile. Can you see how bad rust could be on your DIY electric car?
Any item made of iron is susceptible to rust. The best way to deal with rust is to prevent it from rusting in the first place. Once metal products start to rust, it will not stop until the entire part is destroyed. Therefore you need to watch carefully for telltale signs of the initial stages of rust. Once rusting starts, you must treat it immediately or it will spread like cancer to other metal parts of your vehicle.
How can you prevent rusting on your EV project donor car? Firstly, you have to keep oxygen and moisture away from any iron products on your car. Since an automobile is made mainly or steel, doing so will be a tall task. Remember, iron rusts when it comes into contact with water and air. So, when you take either water or oxygen, there is no rust.

Now, moisture and oxygen are everywhere; so how can we stop them from coming into contact with the metal? The most common solution is by coating the surface of the metal with a material that will not allow moisture, water and oxygen to penetrate in.
As we all know that oil and water repel each other, therefore grease and oil can be a good insulating material for metals. If you apply oil, grease, primer, paint or any other oil-based coating all over the metal surfaces it will prevent rusting.
However, the problem begins when the paint coating comes off either from wear and tear or from scratches. To prevent the occurrence of metal oxidization, even the smallest scratch should be resealed as soon as possible.
How to choose an anti-rust solution for your homemade electric car? The way you select the right option is by determining where the coating is to be used.
Since the donor car you used for your DIY electric car project is old, chances are there will be some levels of rusting. Begin your restoration work by cleaning the rust off any metal surface.
To make your work easier, use a spray on rust remover. With a spray product, your work is reduced to just spraying and wiping. Using sandpaper and other products work but are very labor intensive.
With organic rust removers, you can get rid of rust without any mechanical work. On severely rusted parts, you may have to repair the metal before re-coating it. No doubt it is a lot of work, but trust me, it is all worth it. After you've spent thought thousands of dollars and months on converting your conventional automobile into a pure electric car, you don't want your EV to fall apart due to rusts on the metal components.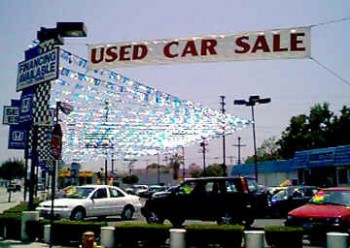 As there has been spurt in prices of vehicles and people have to pay more money for second hand cars these days, it is very important to take proper precautions to make sure that the correct car is purchased at the lowest price and at the best possible terms.
It is, therefore, imperative for those who are trying to buy a car to meticulously inspect the car before purchasing, instead of taking needless risks and wasting their hard earned money, as many people tend to do these days.
Most of the people presume that they know how to inspect a vehicle and spend just 5 to 10 minutes having a cursory glance at the vehicle. If someone is purchasing from those in the automobile business, those car dealers would simply go along with whatever the buyer wants. The buyer will ultimately end up buying a vehicle without proper check up.
The vehicle dealers are happy because they can now get the price they would like the buyer to pay for it. This happens when someone purchases a vehicle without observing the apparent defects, which any earnest buyer would have noticed.
A person buying a vehicle without proper inspection will be at a great disadvantage as people buy cars only once in two or three years. It means that people need not take unnecessary risks and buy vehicles in a hurry without proper checks.
If someone is serious about buying a good car, he should first familiarize himself with the techniques of buying a vehicle from experts in this field, who normally guide their friends and family members in purchasing cars. They can guide properly on what checks should be exercised before buying a vehicle.

They can explain the importance of vehicle inspection and various steps involved in it. Based on their advice a comprehensive checklist, covering various parts or items that should be inspected, can be prepared.
This check list will be helpful for the current purchase or any future purchase of vehicles of any make and model. A Vehicle Inspection Checklist will indicate what parts that one should check and what is likely to go wrong in a particular make and model.
For example, vehicle inspection should cover checking the performance of the engine, the condition of the battery, the functioning of shock absorbers, oil leaks etc. With this knowledge, one can look for these items as part of vehicle inspection process.
In other words, vehicle inspection checklists are reference points for checking the condition of the vehicle so that one may not overlook any aspect relating to a car. Many times people tend to forget to check certain obvious aspects of the car.
For example, sometimes we forget to check under a car as part of inspection at the time of purchasing and realize later that the oil is leaking. Such mistakes usually occur when one does not check the car with reference to the itemized details provided in the vehicle checklist and instead make it a rush job.
Vehicle inspections are not really difficult when one is guided properly. One should have the vehicle checklists from those in the trade in order to know how to carry out inspection right from the beginning. With checklists on hand, one will be able to inspect a car just as any professional does.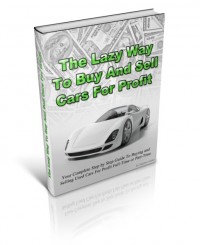 Are you looking for ways to get the best deal from buying a used car? If you are, check out The Lazy Way To Buy & Sell Car For Profit by Stephen Hobbs ebook.
Hobbs' guide will show you how to make a steady profits of $300 to $3000 from buying and selling used cars on a full-time or part-time basis. Click on the link below to visit his web site right now.