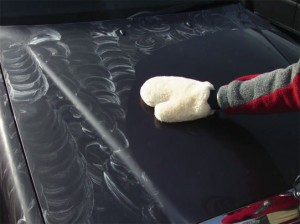 Maintaining the electric motor and the deep cycle batteries on your DIY electric car, of course, is necessary for its efficient performance; but if you leave the car exterior uncared for, it does not impress anyone.
When you think of selling your electric vehicle for a change or any other reason, an unkempt exterior look is sure to bring down its resale value tremendously.
In this regard, a well maintained body with paint and glasses in good condition may score even over the overall performance of the EV. First impression lasts, doesn't it?
Used car sale professionals do first lift up the external look before presenting a car for display. That may be an expensive proposition and is avoidable if you regularly take the very basic cleaning care like giving it a thorough wash with a pressured water hose, without trying too hard to remove dirt stuck to the body, from time to time.
The areas that are not easy to clean are generally those where tar and sand granules have got stuck. These will not clear up without using specific cleansing products available at auto stores. Following the directions for use given with the product is important so that car paint is not damaged in the process.

After this part of the process is over, the car is ready for being polished. A caution here is worth a million!
You must ensure that you pick up a good brand of car polish, albeit a little costlier. Cheaper polishing material works faster; but it is at the cost of your paint!
In fact, cheaper polish products are most certainly likely to contain some abrasive compound rubbing with which is sure to remove the upper paint layer; if used regularly the paint may get worn off with the primer coat showing. This will then need a re-paint.
Once you have completed the polishing job, the electric car surface should glisten; the areas where it doesn't need to be polished again. Now, if left exposed to weather like this, the shine won't last for long. This may bring your painstaking effort to a naught.
The remedy lies in applying a protective substance, most commonly carnauba, to the body surface; that's it!
You will find that the protective layer is impervious to dirt, sand etc. so the shine lasts much longer. Some of the very well known names in car care products are Meguair's, Turtle, Mothers, Zaino and so many more; these are all good and serve the purpose very well.
Of course, you have the right to choose from these brands depending on your own judgment about the quality of your car looks. One more tip here; always use terry cloth towels or fresh micro fiber for applying polish and giving it a shine.
Old used fabric from domestic waste for the purpose will actually do more damage than saving! You must have noticed that some cars you come across on the road though shining, appear as though coated with cobwebs when seen from some angle; this is the result of polishing with used cloth.
If you consciously find time to carry out the above cleaning process even once every two months, the paint on your homemade electric vehicle will surely not wear out for much longer.

With numerous varieties of automotive tools on hand, a garage car manual to guide and sparing some time and attention, minor car repairs and its scheduled servicing and maintenance works can be undertaken easily by anyone at his automobile garage at home to maintain an electric car road-worthy and keep it running smoothly.
This way one can comfortably save hundreds of dollars on garage expenses annually. Apart from cutting down on costly expenses on professional garage services, one of the most gratifying features of undertaking maintenance jobs on own vehicle is the opportunity it provides in better understanding of the car mechanism so that it is easier to handle in case of breakdowns.
A wide range of good quality automobile tools are essential in any home automobile workshop to work on a car. The machining and sizes of parts of cars are not uniform for all models and makes, as certain car manufacturers adopt different types of machining for their cars and in view of this, sizes of parts also vary.
It is, therefore, very important to procure certain special car tools from automobile parts stores. These tools are specifically designed for working on a particular type of car. A trolley jack and axle stands are among the two most important items in a home car workshop and without them the workshop is not complete.
These equipments are required to let the car owner to get underneath the car to carry out certain maintenance jobs, like changing the deep cycle battery or checking on the adapter plate or electric motor. For many routine jobs, such as changing blown fuse, battery connector, wire connectors, brake pads etc. on your homemade electric vehicle, all-purpose tools, like a wrench and a screwdriver are quite sufficient and practically, all hardware stores stock these small tools.
It is advisable to keep automobile tools separate from other normal tools so that these tools will be handy when car maintenance work is taken up. This way maintenance job can proceed smoothly without any disruptions or delays.

If you are using a conventional automobile, it was comparatively easier to maintain cars and get familiarized with their mechanism than at present. With a
DIY electric car
, maintenance can be a bit tricky especially if the problem is caused by the controller.
It is, therefore, necessary to have special electrical problem-solving tools to check and fine-tune the controller and electric motor on your EV. Routine maintenance of internal and external components of your electric car in actually fact is not difficult and it could be carried out by anyone.
Removal of scratches, dents and panel beating are fairly simple jobs to undertake in a home garage. While a soft hammer is useful for panel beating, abrasive paper, spray paint and filler are necessary for spray painting work. For small scratches on your car body paintwork, you can use the Quixx paint scratch remover.
If the car is used regularly for a long period and the interior looks worn out, it also requires some attention. Fortunately, plenty of car upholstery tools are available in the market that can be used to refurbish the interior of the car and restore it to its original dazzling condition.
Small slits and burns on the seats can be repaired by darning them or pasting repair patches over those places. While the luster of the car can be restored with a good polish and a polishing brush, certain specialized tools are necessary for repairing the carpets or even substitute them, if required, with good ones.
It is obvious that owning and maintaining an electric car is not only mere tightening of nuts and bolts and stitching ripped seams, but also involves adding certain specific parts, like a more efficient high torque electric motor to durable deep cycle batteries. When fundamentals of car maintenance are properly understood, its upgrading and tuning will become more comprehensible, thereby saving lot of money in the long run.
The best method to save valuable time, effort and lot of money on car repairs is to keep the right automotive tools in the home garage and carryout small jobs on our own. However, it is also very important to bear in mind that one should acquire enough knowledge on cars so that he can decide when to seek the services of a professional mechanic from an outside workshop or otherwise, ignorance or insufficient knowledge will lead to more damage than good your electric car.

Electric cars are back in popularity after a long gap and most of the car drivers would prefer this type of vehicles to gasoline-powered cars because of soaring prices of fuel and oil, provided all other aspects, such as price, running and maintenance expenses and operating efficiencies between the two types of vehicles are the same.
The following are 3 ways that can stimulate the demand for electric cars and promote consumer car industry. Another option to boost the growth is to persuade consumers to compare the rates for car insurance from the different websites in order to get reasonable rates of premium.
1) Improvements in Technology
There is not much scope in this area as improvements cannot be brought about overnight. Although electric car manufacturers are working on the technological aspects to improve performance of electric car, reducing the cost of production and make charging of batteries more convenient, there is not much success in this area as the present day technology, electric car batteries are still lagging behind.
Rapid developments in electric car technology will, naturally, result in substantial reduction in costs. Nevertheless, the pace of technological developments is picking up to enhance the running efficiencies of electric cars and make them more convenient to use.
The latest advances include the facility to recharge the car with the help of normal household electrical energy sources. The ability to recharge an electric car fast without any hassles at home at the end of each journey, in effect, leads to a two-fold increase in driving distance.
Though these are favorable developments, they do not mean much in motivating more people to switch over from gasoline-powered cars to electric cars these days. In order to support the growth of electric car industry and encourage more people to use electric cars, government is initiating several strategies.

2) Government Incentives
Firstly, by permitting lone passenger use of carpool lanes, the people may be enthused to change to electric cars. Motorists, by using the carpool lane can save considerable time, while commuting on the highways.
Though this would encourage new electric car drivers, its benefit is restricted to only those who travel short distances because at present, all electric vehicles can be driven only for short distances per charge.
Secondly, toll discounts are another area of incentives that could motivate more people to own electric cars. Similar to carpool lanes, toll roads are generally more convenient than standard lanes as it decreases travel time to a great extent. The toll discounts would result in immediate, measurable monetary benefits over a non-electric car.
In certain regions use or avoiding of toll roads is inherent in planning the well-organized travel route. Much of the possible savings in petroleum by extensive switchover to electric cars will be felt by large number of motorists who drive in big cities.
For such places, the single largest incentive, which is nearly as good as a direct subsidy, would be a discount on parking fees. For those working in big cities, parking a vehicle can be as expensive as owning the vehicle itself.
3) Discount On Parking
A heavy parking discount for electric cars would translate into large-scale change to electric cars for those who commute and park vehicles within the city. Progressive governments in cities are considering seriously implementing the concept of introducing parking discounts.
Though it means a slight dip in revenues for the city, this incentive would benefit large number of electric car population and encourage more people to convert their gasoline cars to electric cars. The performance and the costs between internal combustion vehicles and electric vehicles would continue to narrow down with rapid technological advances.
Ultimately, these developments together with soaring fuel costs will solidly tilt the scales towards electric cars. In order to see that this happens, incentives, like free parking will go a long way in encouraging more people to switch over without being compelled to pay more for polluting the environment by using gasoline-powered car.