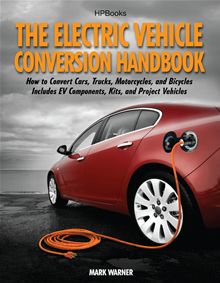 Electric cars have become once again one of the most popular modes of transport after a gap of nearly a decade, because their carbon emission levels are quite low, cause less pollution and are eco-friendly.
Many owners of gasoline-powered cars prefer to convert their cars into electric vehicles on their own at home rather than going in for a new electric car as conversion costs are significantly low. Electric car conversions are generally regarded as Do It Yourself (DIY) jobs.
However, converting a car to electricity-driven one is somewhat difficult, but not altogether impossible. One should equip himself with proper knowledge so that the chances of errors are minimized and conversion costs will be kept low and will ensure a hassle-free conversion. In other words, a comprehensive manual or a guide makes the task of conversion much easier.
The Electric Vehicle Conversion Handbook written by Mark Warner is very useful guide for those interested in converting their cars into electric vehicles. The systematic approach to car conversion elucidated in the handbook is what makes the handbook very useful.
In the opening chapters, Warner explains about electric cars and their advantages and disadvantages. The book does not highlight about the drawbacks of electric cars but rather focuses enthusiastically more about the immense benefits that electric cars can offer.
After the preamble, Mark Warner proceeds to help the reader in taking appropriate decisions regarding converting a car into an electric vehicle. He does this by raising a number of pertinent questions and presenting various scenarios so that making a right decision becomes easier.
After that, the author moves on to enlighten how one should choose a chassis, or a car for conversion. On the face of it, though it might appear a simple and straightforward job, in practice, it is not so, as several aspects need to be considered.
The handbook explains in lucid style various aspects that require careful evaluation before a vehicle is selected for conversion. Warner then discusses about the various parts needed for conversion and the functions of each component. This portion is the most important part of the handbook.
For example, everyone knows that an electric car requires an electric motor but how do you choose the right one. The same thing applies to other parts, such as the controller, the charger and obviously, the batteries.
The author narrates in The Electric Vehicle Conversion Handbook the theoretical aspect of each part, why they are required, what are their functions and different types of each one of them. For example, when we talk of batteries, he discusses merits and demerits of lead acid batteries vis-a-vis lithium batteries.
This facilitates proper understanding of the advantages and disadvantages of each component so that one will be better placed to take a conscious decision regarding conversion of his existing vehicle to an electric car.
Finally, the Mark Warner illustrates nine different vehicle conversion jobs. These projects consist of an extensive range of vehicles, like a bicycle, a motor cycle, a truck, a van and also a few sports cars. More than anything else, these illustrations are fine examples to explain that any job can be completed successfully with careful planning.
The hand book, however, does not provide any step by step instructions for converting a car as it would be very difficult to explain about large variety of cars and numerous components in each type. On the other hand, the handbook educates all those looking for converting their cars into electric cars on various factors involved in the vehicle conversion process and how to make a well-informed decision.
On the whole, the handbook is a very valuable guide to all those considering conversion of their present vehicle to electric car on their own. Click on the button on the right to get a copy of Mark Warner's book from Amazom.com/.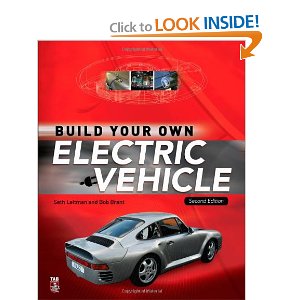 Last month, I finally got my hands on Seth Leitman's Build Your Own Electric Vehicle book from Amazon.com/. Here's an interesting fact that I didn't know about Leitman, he holds a degree in engineering and has worked on the Lunar Rover project. I guess he must be a technical genius.
I have always like Do It Yourself (DIY) electric cars and that's the primary reason I created this blog. Therefore, Leitman's book is really a great source of information, which will be of immense help if you are interested in learning about electric vehicle conversion.
Build Your Own Electric Vehicle Book – What's Inside?
In this slightly over 300 pages book, Seth Leitman has provided information much beyond what can be imagined from the title of the book. Not only the book lists the process of converting conventional car to electric vehicle, it also provides a lot of information related to EVs.
To begin with, Leitman investigates the suitability of electric vehicles as far as environment friendliness is concerned. This is followed by a brief description of the history of evolution of the electric vehicles from mid 1800's to the present time.
He has also provided an excellent review of the all the vehicle produced during recent times, till 1993, which is a unique feature of the book. His review also includes the future plan of the manufacturers.
One chapter was specially written to guide the prospective buyers with all the choices available in the market – be it absolutely ready to go car from a manufacturer or a Do It Yourself (DIY) enthusiast about the conversion process.
According to the author, buying a used EV may be a wise option, especially if you are looking for some cost savings. It is true that these used cars are difficult to get, especially if you are located in someplace outside the big cites on the coast. But if you are successful in spotting such a car, rest assured, your DIY electric car conversion project cost will be remarkably low.
As is evident from the title of the book, Leitman has stressed on building your own EV rather than buying a ready one from the manufacturer. To find out which vehicle is best suitable for conversion, he has also compared various vehicles.
According to Leitman, a vehicle with a slow pick up is easiest to convert and accordingly, a truck may be the best vehicle to be converted which will give you the best range, provided you are OK with the slow starting speed and it fulfils your requirements and matches your style.
In Chapter 5, the book has included an exhaustive list of suppliers, manufacturers, converters and EV clubs which is extremely helpful.
But the real content of the book starts form Chapter 6 onwards. Leitman has used all sorts of tools to evaluate the effectiveness of the vehicle that you are considering for conversion. There are formulas and charts that will also help you to choose the size of motor and batteries that will be used for EV conversion.
In the next chapter, he has dealt with all the components of the electric vehicles in details, such as the electric motors, controllers, batteries, and chargers.
Personally, I think these are the chapters that make the book extremely useful if you are keen to start your own electric car retrofitting project from your garage. The Build Your Own Electric Vehicle book deals with all the practical requirement and information, both for existing as well as the future technologies.
So is Seth Leitman's book a good buy? Well, if you like DIY electric cars, I would highly recommend it. Click on the link below to get your copy from Amazon.com right now.
Back in mid 2008, many car owners were having a tough time maintaining and refueling their cars. The global crude oil reached a height of $150 per barrel and that in effect has shot local gasoline prices through the roof.
It was a dreadful experience going to the gas station. If you own a large SUV, the experience can be darn right painful.
Will the price of gasoline increase again?
That is for sure, it is only a matter of time.
To cushion the impact of rising fuel prices, many vehicle owners are looking into alternative energy such as electricity. However, a brand new electric car from the dealership is still very expensive. Many people are not ready to make that kind of investment.
A cheaper alternative is to convert their existing vehicle into a pure electric car via a Do It Yourself (DIY) approach. That has lead to the creation of many DIY electric car conversion guides on the web.
One of the most popular EV conversion manual available on the internet is George Christodoulou's Gas2Electric e-book.
Is the manual any good?

That is the reason I am writing this post, to give you a quick glimpse into the guide.
George Christodoulou is a self-proclaimed environmental activist and DIY car converter. If you didn't know, you can find his web site at www.gas2electric.net.
The Gas2Electric is basically a step by step guide to convert a conventional gas guzzler to run on only electricity. According to George, by using an EV, you can cut your gasoline bill down to zero.
This is a fact because by using an electric car, the only time you will stop by the gas station is to buy a pack of cigarettes or use the wash room.
Is DIY electric car conversion suitable for everyone?
Sadly, the answer is no.
If you are not good with hand tools or you have no knowledge whatsoever on automobile, doing your own EV conversion project may not be a good idea.
In this case, you can outsource the conversion project to a professional mechanic. The money spent here will save you a lot of time and unnecessary headache.
When you are engaging the service of a professional workshop, the Gas2Electric will come in very handy for you. After you've read the e-book, you will have a better understanding on what's involved in an EV retrofitting process.
With your new found knowledge, you will be able to have a discussion with the mechanic without looking like a dummy. At least you will know when you are being charged for unnecessary parts or work done on your car.
So what's my verdict on George Christodoulou's Gas2Electric?
If you are new to the concept of DIY electric vehicle and you want to know how it's done, go get a copy of the e-book. It's a good read and you'll get to expand your car knowledge.