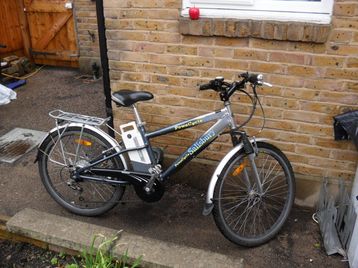 For short distance travel between 5 to 30 miles a day in urban areas, an electric bicycle is the best environmental friendly mode of transport. That too without increasing the time and the cost of travel.
The electric motor of the e-bicycle is driven by a grid charged battery. And the mechanical energy provided by the motor is ten times more efficient than that a normal human gets by eating a standard diet.
Analysis of Energy Flow in an Electric Bicycle as a mode of Personal Transportation and from Energy and Global Warming perspective:
1. Climbing up a hill It is obvious and one of the basic advantages.
While climbing up an inclined surface the 'groan' factor plays an important role. This factor is eliminated with an electric bicycle.
An efficient electric bike flattens the hill as a result the average speed of the rider increases. With a reasonable effort the rider can easily climb hills of 1 in 10, i.e. 10% and can climb a gradient of 1 in 7 i.e. 14% or more. In a hill station this is just amazing.
2. Electric bikes are safer.
This may sound unbelievable, but this is true. Think of a situation when the cars are moving up a steep road at 30 mph and you are riding a manual bicycle in the same road at 6 mph. Imagine the number of cars that will be passing by you at a relative speed of 24 mph. But if you are riding an electric bike, you can run along the same road at a speed of 12 mph.
Now the number of cars that will pass by you is at least 33% lower and that too at a relative speed of 18 mph only. Does not that make you safer? It is simple. Faster your speed of travel, sooner you reach your destination and safer you are.
Same is true when you are crossing road junctions. The other advantage is that when you are riding up the hills comfortably, you will also not rush while climbing down and reduce your risk.

3. Personal fitness.
Cycling is a great exercise and helps one to keep fit. But you will only get the benefit if you ride your bike regularly. Research shows that 46% of conventional bike owners use the bikes only once or twice a week.
Another 30% use their bikes only once in 15 days or even less. In contrary, a recent survey has shown that 81% user of electric bikes use their bikes at least once a week and one third of the users ride their bikes at least once a day. The above observations confirm that electric bikes are used at least twice more frequently than conventional bikes.
Riding an electric bike is an enjoyable, especially in hilly regions. When strong wind is blowing or you have to carry a heavy load on your bike – the electric bike requires only half the effort from the rider. As a result the rider tends to use the bike more frequently; at least twice than he would have done with a conventional bike, thus the rider gets more physical exercise.
4. Keeps you free of sweat.
You may not mind sweating when you are on a leisure ride, but while cycling to work sweat definitely is a nuisance. While some employers may provide shower facilities for cyclers, that too unwillingly, most of them do not. An electric bike is the solution. It reduces the load of the rider to a great extent.
When the weather is cold, or when you need a bit more of exercise, you can just turn off the motor.
5. Clean and environment friendly.
The electric bike does consume energy while the conventional bikes do not. But the amount is very less as compared to a moped, motorcycle or a car. It also consumes battery, but the battery can be recycled.
The average electric energy consumption of an electric bike is 100 to 150 watts. In comparison a car, which understandably runs much faster, consumes about 15,000 watts. Compared to any other commercially available vehicle, an electric bike is most fuel efficient with a consumption of about 800 – 2,000mpg (290 – 700 liters / kilometer) of energy.
Think of the energy consumed by a 100 watt electric bulb glowing in your house for one evening – this is all Thant is required for running your electric bike for 20 to 40 miles!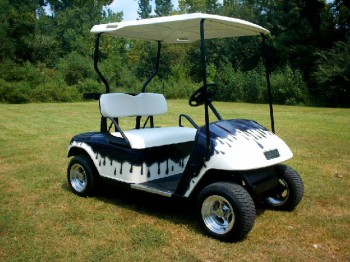 Electric golf carts are all equipped with batteries; these batteries are deep cycle based and similar to what you would find on marine boats. A deep cycle battery can last for years if well maintained but will burn out quickly if neglected.
It's important to keep your battery charged, allowing it to lose too much power can actually damage the battery. There are lots of charger options, both standard electrical and solar chargers exist, for best results it's a good idea to have a charger that will automatically switch to low charge when the battery is full.
It's best to charge the battery after every use and especially if you plan to leave it stored for an extended period of time. One vital rule you must always remember when handling a golf cart battery is safety, always wear gloves and goggles.

The batteries are acid based and use electricity neither of these things are fun for your skin and eyes. Never neglect safety for speed or convenience. It's also vital to charge the battery correctly. Doing it wrong could damage the battery.
Once you've removed the battery from your cart use baking soda and water to clean the battery connections and cables. If the caps on your battery come off then fill the cells with distilled water. Dirty water or tap water is not ideal to get the best performance out of your battery. Therefore, use clean water.
Connect the cable to the battery and follow the instructions that came with your charger to make sure all connections and settings are correct before powering it on. Charge time can vary depending on the battery and the charger but it's a good idea to try and detach the charger as soon as the battery is fully charged.
Immediately re-install the battery in the cart unless you plan to store it. If you don't plan to use it again you can leave it plugged on a low charge setting. If you don't leave it plugged you will need to recharge it in about two weeks before you use it.
The battery will not hold its charge longer than a few weeks at most. As mentioned earlier it's not a good idea to let your batteries completely lose their charge. A process called sulfation causes sulfur to build up on the lead plates and eventually your batteries will no longer work.
If the worst happens however there are a few steps you can take to salvage the situation. Battery reconditioning will only work for so long, if you continue to allow your battery drain too regularly it will eventually stop working. The process is fairly simply drain all fluid from your battery and replace it with 85% distilled water and 15% Epsom salt.
Again it's very important to use clean water tap or dirty water will not be as good for a battery that is already suffering. Recharge the battery and test it, it will probably not charge completely the first time after reconditioning, that is normal, simply charge it again. Once again the most important rule of battery maintenance is safety first, always use protective gloves and goggles while working with the batteries it uses electricity and acid after all and they are not your friends.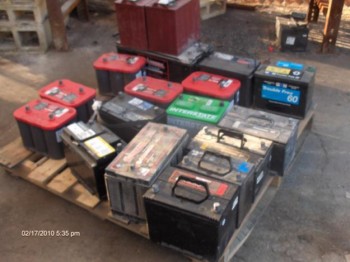 A battery is the soul of an electric-powered golf cart. Deep cycle batteries are used to power the engine to run the golf cart. Even though these types of batteries appear like conventional car batteries, deep cycle batteries are extensively used in variety of different applications where ordinary car batteries are not so suitable.
While both are lead-acid batteries, deep cycle batteries supply a stable electric current for long hours, the car batteries release sudden bursts of huge amount of electricity to start the car engine and lasts only for a short time. Golf carts, like electric vehicles, draw the entire requirements of electric current from a set of batteries as one battery is not sufficient to drive a golf cart.
Single golf cart batteries are normally available in 6- volts or 8-volts capacities. The pooled voltage from individual batteries in the pack is enough to get the desired voltage to power a golf cart. For example, a 36-volt golf cart usually consists of a set of six 6-volt batteries and a 48-volt golf cart is equipped with a pack of either eight 6 volt batteries or six 8-volt batteries.
The power of the battery and its running time depends on the voltage. A higher voltage means a more powerful battery and longer running time However, the batteries should be charged regularly, otherwise, the total voltage of the battery pack has no relevance and batteries will be dead without charging.
The total voltage of the battery pack of a golf cart determines the type of charger required for charging the batteries. For example, while a 36 V golf cart needs a 36 volt battery charger, a 48 Volt charger is required for a 48 V golf cart. If someone wants to upgrade his present 36V golf cart to a 48 V golf cart with the addition of two 6V batteries, he can either buy an extra 12V charger for the two new batteries or replace an existing 36 V charger with a 48V charger.
As a general principle, the voltage of the battery charger should match the total voltage of the batteries. In order to ensure that golf cart runs without any breakdown, the batteries should be charged after every use.
Most of the recent models of chargers are fully automatic and monitor the electric current while charging so that there is no scope for overcharging. Those having an old model of golf cart charger that is not automatic can set a timer to shut off the charger once the battery pack of the golf cart is completely charged.

As a general rule, one should charge the batteries for at least double the time the golf cart was used. Another important point a golf cart owner should keep in mind is to assess from time to time how efficiently the batteries are working.
In order to ensure that the batteries are in first-rate condition, they should be properly maintained. It is important to be aware of certain essential maintenance procedures such as checking whether water levels of the batteries are proper and about various cleaning methods to ensure that the surface of the batteries are free from dirt and corrosion.
It is advisable to implement weekly or monthly maintenance routines to check whether the batteries are in good condition and that the safety measures introduced are adequate. One weak battery in the battery pack is enough to run down all other batteries and therefore, battery checks should be carried out frequently.
If someone wants to fir the golf cart with certain accessories, the same golf cart batteries are sufficient to use these accessories. There are various methods to connect the accessories and they vary according to specific conditions. The voltage of most of the battery-powered golf cart accessories are 12 volts.
The fast and simple method to operate the accessories is to connect them up directly to the two 6 volts batteries of the battery pack. However, this may lead to disparity in the battery pack, particularly if there are large numbers of accessories that require very high wattage.
At this stage, it is advisable to provide an exclusive supplementary battery only for operating the accessories or a converter to uniformly distribute the electric current from all the batteries to the accessories. When it is time to change the golf cart batteries, it is necessary to find out the best way to dispose of the batteries.
There are many retail shops that recycle old batteries for resale. Most of the retailers that sell lead-acid batteries also accept used batteries as required by many state laws. It is good to recycle old batteries from the environment point of view as well as for the personal good health of the golfer and people around him.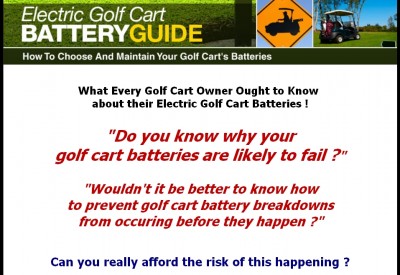 If you own an electric golf cart, one way of saving money is to recondition the old deep cycle batteries on your own. How do you do it? Click on the link below to visit the Electric Golf Cart Battery Guide and learn the reconditioning process.