If you are looking for an inexpensive car for your DIY electric car conversion project, then an older model VW Beetle Bug may be the car for you. You can find them almost anywhere including used car dealerships, motor trading sites, government auction sites and various other places.
If you find an old bug with a blown up motor then you should snag it up quickly for a lower price, just don't let the seller know that you plan on getting rid of it for your EV conversion.
An EV VW bug is actually a simply made vehicle after retrofitting. There are no complicated electronic components or circuitry to deal with. In your search for an electric donor car you should look for a car that is rear wheel drive, most VW Beetles are rear wheel drive.
A bug is good for EV conversion because they have ample storage in the front. If you take out the spare tire you would have enough room to store at least ten units of deep cycle batteries. To extend your cars mileage you can place more batteries behind the driver's side seat of your bug.
Since a VW Beetle is a common electric donor car you can easily find an EV conversion kit for it. If you purchase this kit you can save a lot of time converting this car to run on electricity.

The adapter plate that comes in this kit is already cut to fit so all you have to do is simply line it up and bolt it on. The VW beetle is a light weight car generally weighing in at under 1800 pounds, which is good for an electric car conversion project.
Less weight means less power needed to propel the car. Less power used to run the car means extended battery life. This particular cars excellent engineering has made it relatively easy to remove the internal combustion engine or ICE.
To remove the engine all you have to do is open the engine cover, place a hoist above the engine, loosen a few bolts and it is done. Some other cars require a ton of manual labor and make removing the engine as hard as pulling a tooth with a set of pliers.
If you are using the DIY or doing it yourself method to transform this car into an electric run vehicle then you need to get a car with a manual transmission. Finding an old VW Beetle with a manual transmission saves you a lot of time and money. Since the old Volkswagen Beetle was such a common car you should not have any problems finding inexpensive parts for it.
The reasons above are why I believe that an old Volkswagen beetle would be a great donor car for a DIY electric car conversion project.
EV VW Bug Conversion Guide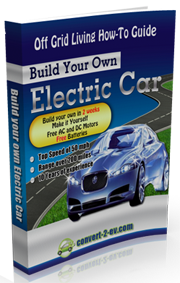 Are you planning to convert a conventional VW Bug into a pure electric car in your home garage? If you are, it is best you read up on the science of EV conversion.
Before you begin your electric vehicle conversion project, check out the Convert2EV ebook by Les and Jane Oke. The Okes live a green lifestyle in Canada and one way of keeping their carbon footprint small is by using pure electric car. The Convert2EV manual was written based on their experience of retrofitting old gas guzzler into electric vehicle.