By being able to change the oil and wiper blades on an automobile, it's possible for you to build an electric car of your own. What it takes is a bit of know-how and definitely which is not akin to a rocket science. The following are 9 tips if you are planning to start a homemade electric vehicle (EV) conversion project on a small budget.
1) Start by doing your research.
Before you proceed to make an electric car on your own, try to go through all the materials that you can get your hands on this particular subject. Put on your reading glasses and learn as much as you can on EV conversion.
2) Fine someone to help you.
Try to get the assistance someone who has been a successful in retrofitting a gas guzzler to pure electric car. It would be even better if you get in touch with the local Electric Auto Association and actively talk to people there. If you are lucky, someone with a bit of experience will mentor you.
3) Hunting for the donor car.
Arrange for a donor vehicle (which is nothing but the gas-guzzler to rip out the guts). It doesn't matter if the internal combustion engine is busted because you don't need it anyway. That will save you some money.
4) Buying a custom electric vehicle conversion kit.
You should get a conversion kit which is really helpful while building the electric car. It will cost you some money, but it will help you to save a lot of time.
5) Be friend your local machinist.
During the time you build your own electric car, grow a friendship with your local machinist. Otherwise, you are certainly the machinist with your garage consisting of the large machining tools but requiring only one.
An accurate machining is inevitable in respect of the transmission adaptor plate and the assembly which connects a transmission with the electric motor. You will be the most indignant person with your conversion so long it exists.

6) Get more help.
Arrange for a couple of your friends to help you yank the engine out. Every town has experienced and well-maneuvered mechanics that can extract the 700 pounds engines from the car in a couple of hours. If you are a novice, it may take you the whole day to do so.
Leave it to them to get the engine out. It might cost you some money, but trust me, it will save you a lot of time.
7) Prepare your work space.
You should choose a place which clean, warm, adequately illuminated and dry to make your electric car. You want your EV conversion experience a pleasant one.
8) Chalk out a delivery schedule for parts.
When you have decided to build your own electric, you should order the EV parts and have them delivered to you as when you need it. You don't want the parts to be lying around in your garage and taking up space.
Your EV mentor will be able to assist you in terms of project management and scheduling. If you have planning to use a custom conversion kit, make sure you space in your garage to store all the components.
9) Maintain a project blog.
Start a blog and document the progress of your homemade electric car project. List down all the mistakes that you've made. Be candid and honest. Your EV blog is meant to pass over the experience you've gain in your project to someone who is planning to start their own EV project.
DIY Electric Car Conversion Guide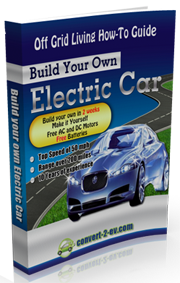 Are you planning to convert a conventional automobile into a pure electric car in your home garage? If you are, it is best you read up on the science of EV conversion.
Before you begin your electric vehicle conversion project, check out the Convert2EV ebook by Les and Jane Oke. The Okes live a green lifestyle in Canada and one way of keeping their carbon footprint small is by using pure electric car. The Convert2EV manual was written based on their experience of retrofitting old gas guzzler into electric vehicle.