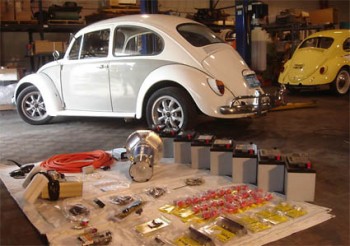 Most of those who contemplate to set up a small electric car conversion manufacturing line for carrying out semi-skilled conversion jobs will never make any headway beyond conceptual stage, even though it is not at all a difficult job to do. The major reason for this is the prohibitively high costs involved in such jobs.
For example, in order to convert a superior model car fitted with entirely new components will cost a huge amount of money, around $5000 to $10,000 that too exclusive of labor costs. Nevertheless, there are a number of methods to cut down on these costs.
Here are several steps involved in establishing a small electric car conversion business.
1. To start with, one should float a LLC (LTD) company and draw up a detailed plan with specific time schedule. Once a feasibility report is ready, he should apply for a business loan from the bank. If the project is viable, subject to bank confirming the credit worthiness of the borrower, it is not difficult to obtain a bank loan.
In several countries, one can apply for a bank loans online on the internet. If the documentation is complete and satisfies the bank's requirements, one can easily get the loan and start the operations within a week.
2. The next step in setting up the car conversion line of business is to purchase all the electric car parts in bulk quantities. One can save a lot of money when purchasing electric car motors, controllers and various accessories in large quantities by arranging with the supplier bulk discounts as well as price discounts.
Apart from this, there will be considerable saving in transport costs. All these factors will result in substantial reduction in the overall cost per car.

3. Final step is to modernize and organize the process to minimize time and labor costs. It is important to use the same type of vehicle for each conversion so that only one set of battery racks needs to be designed and is set up in a specific manner.
Suppose one tries to convert five different cars, it requires five different sets of battery racks and along with that there will be variety of problems to deal with, ultimately spending a lot of time and money. Although it is possible to take up more than one type of car at a time for conversion, it involves a lot of time and money on account of additional labor costs.
The best way to cut down time by at least 50% is to rationalize and repeat each step from making gear box adapters to installing five sets of controllers. This way conversion of each car can be completed at the same time for delivery to the market.
This facilitates selling all the converted cars in one lot, thereby saving costs on advertisement and sales promotion. There is currently a lot of demand for electric cars and it is likely to increase every time the gasoline prices go up. In this scenario, there is no need for spending money on advertising for electric cars.
The major car manufacturers making electric cars charge very high prices for electric cars and this automatically creates more business for converted electric cars. The success of this venture depends upon how fast gasoline-powered cars are converted to electric cars.
It is very important to convert the cars at the shortest time possible in order to increase productivity and maximize profits. The cars such as the Nissan Leaf will be selling for above $40,000 when it is marketed next year.
If the batteries are bought outright instead of leasing, one could convert at least two cars for $40,000 with the same range of 100 miles as the 2011 Nissan For those who have taken up this business for the first time may find electric car conversion job a daunting task.
Nevertheless, with a good planning, dedication and hard work, one can reap lots of profits in electric car conversion business.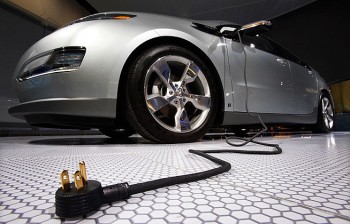 With ever increasing prices of gasoline, car owners have been constantly on the lookout for cheaper source of energy to power their vehicles. Thanks to many technological inventions, these people need not worry any longer about steep increase in the prices of gasoline as electric cars have re-entered the markets with a bang after going off the roads for a long time due to lack of demand.
Buoyed by the amazing popularity for electric cars, many people are enthused by the idea of converting their gasoline-powered cars into electric vehicles. It is not at all difficult to construct an electric car by replacing the current gasoline-powered internal combustion engine with an electric motor. A few technical details regarding car conversion and small amount of expenditure are all that are required for electric car conversion.
Many people may not be aware that electric cars were first introduced in the beginning of 1900s, when gasoline was very costly and that forced people to start driving electric cars. During that time the technology of gasoline-powered cars was primitive and there was no key to ignite the engine. People had to painstakingly turn on a lever in front of the car to start the engine.

Gasoline-powered engines emitted plenty of smoke and also had very deafening mufflers. With the passage of time, several innovative technologies were developed and people adopted easier and more productive methods to extract gasoline. Later versions of cars incorporated electric starters and the gasoline-powered cars could cover more distance than electric cars.
With these advantages, gasoline-powered cars soon became the most popular mode of transport. However, with gasoline prices at the peak at present and vigorous campaign all over the world for a pollution-free, green environment by reducing emissions of harmful gases, people have now begun moving towards popularizing electric cars once again.
An electric car does not need gasoline at all to power the engine as they are run by the electric current produced by the batteries. Electric car motors are equipped with 12 to 24 volt batteries for each electric vehicle. However, these batteries are required to be charged during the night by plugging it into an electric outlet.
By the time one gets up in the morning he will find the car with the batteries fully charged. A single charge will easily cover a distance of up to 200 miles before it needs recharging again. The main advantage of conversion of the existing traditional car to an electric one is that it will obviate the need to fill gasoline in the vehicle thereby saving a lot of money.
The money saved can be utilized for various other purposes. By owning an electric car, one can also participate in the 'go green movement' to cut down the harmful effects of global warming. There is no need to convert the entire vehicle. There are a number of do-it-yourself (DIY) electric car conversion kits available in the market or DIY electric car conversion kits that can be downloaded from the online websites on the internet It is worth buying these guides that give step by step instructions for building an electric car from a gasoline vehicle.
These DIY guides are reasonably priced and facilitate conversion of the present gasoline vehicle into a cost-effective Eco-friendly green car.


If you are fed up with your old fashioned internal combustion engine car, this is the right time to do something which is really creative, paying and environmental friendly. The bet and unique option is to get your car converted into an electric car by installing the conversion kit.
Many people across the world and also in the United States are fed up with the rising gasoline prices and people do not earn enough to afford the rising gasoline prices. They have to spend a good chunk of money on the purchase of gasoline and very little is left to meet the other expenses.
Some of the options considered by many nations are to find alternative energy source which can replace the present gasoline and diesel. There are experiments going on use of LPG (Liquefied petroleum gas) or bio-fuels derived from the plants that can potentially run the vehicles with same power as with fossil fuels.
Some nations are also trying to use water and recycled cooking oil as the alternative fuel to power the engines of the vehicles. But these are still in the initial stage of testing and the safety has not been established as yet.

One has to also see the supply of raw material for running the vehicles on the bio-fuels. In the United States, many people have been testing on converting the car's internal combustion engine to run on the electricity. The results will encourage the big companies to approve and manufacture electrically converted cars or start selling the electrical conversion kits to people at the affordable prices.
Such effort will help people to cope with the rising prices of fossil fuels. In the United States, many companies are selling converted cars and many people are opting for it to get rid of their old fashioned cars.
Such a conversion requires complete removal of the internal combustion engine and its parts to be replaced by the electric conversion kit. Batteries being an important component are added and the wire system is connected as per the requirement so that the car gets the electricity to power the motor.
The entire conversion should cost around $7,000 and above and the car owner can save a lot of money which he would otherwise spend on the purchase of gasoline. Most of the conversion kits are available in two types, the custom kit is made especially for specific type of vehicles and the universal type can be used on any type of vehicles like cars and trucks.
Each type off conversion has different tools; it depends upon the type of car which is fitted with the conversion kit. Normally the tools include advance DC motor, adapter, contractor, controller, pot box, circuit breaker, fusible links, amp gauges, volt gauge, shunt, charger, cables and the rechargeable batteries.
If you are doing it yourself without any assistance from any expert, it is always better to follow the instruction of some good guide which will reduce any mistakes.