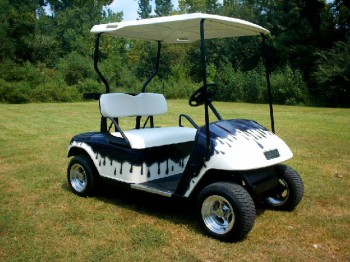 There are a number of things that you have to buy as a golfing enthusiast: balls, clubs, tees, clothes, bags, putters, shoes, etc. A
golf cart battery
that costs anywhere between $200 and $500 is also usually seen in the list of items to be bought.
The aim of this article is to give you some tips on how to take proper care of golf cart batteries so that you don't have to replace this costly item quite often. In fact, you can use the money to pay the green fees for a year or get yourself a driver!
Here are some things that you can do help extend the life of the battery your electric golf trolley and bring down your overall expenses as a golf enthusiast.
1. Charging the battery.
You have to strictly follow the instructions given by the manufacturer of the golf cart battery. It is very important to ensure that AGM (Absorbed Glass Mat)/deep cycle batteries are not run down completely before recharging them.
In fact, the battery has to be maintained at the near full charge condition as much as possible. Devices that are capable of keeping the battery charged making use of solar power are available these days. You can take advantage of such devices to extend the life of your golf cart battery.

2. Maintain the water levels.
You need to maintain the water levels inside the golf cart batteries to ensure that it stays in a good condition for a longer time. Also, it is important that you use only distilled or pure water when you top up the battery water level. This is because water that is highly alkaline or acidic can damage the battery and reduce its lifespan.
In old batteries and those that have suffered some kind of damage, the water levels can become low. If this happens, the batteries may not charge properly and you may be forced to change the battery.
3. Proper care.
A battery works to generate electrical charge on the basis of chemical reactions taking place in it. Rough handling of the equipment through rash driving of the golf cart and accidents that happen when carting the battery can seriously damage the batteries and they may not effectively generate charge and at times not generate at all.
Also, you have to ensure that you don't drop the battery. You have to always remember that your golf depends on its effective performance. Think of the situation when your golf cart breaks down miles away from the 19th hole and you are forced to get the help of the golf course staff to not only get back, but also bring the golf cart with you! Take proper care of the battery so that it can perform well.
4. Keep the leads clean.
The battery provides the electric current required to run the golf cart engine and its ability to supply the right amperage will be hampered if the leads are old and rusted. Damaged leads and non-standard leads can also cause fire. You can prevent the failure of the golf cart engine by keeping the leads clean and replacing them when they become old.
You will feel great and confident when you know that all the factors that contribute to the performance of your golf cart battery are in control. You will be in a position to focus on your game as the battery will not be a source of irritation any longer!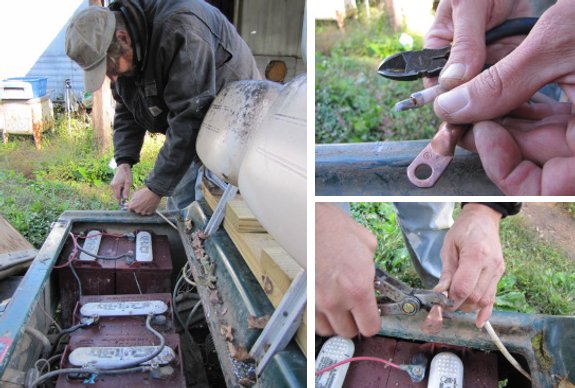 If you are planning to start your own Do It Yourself (DIY) electric car conversion project, you need to head over to the golf course. No, I am not suggesting you play a round of golf there, but rather, head over to the golf carts service station.
Like any admirer of the game of golf; you too are sure to be acquainted with the expensive batteries that are required to power your homemade electric vehicle. However, if you think that you can simply pick up the used batteries, recharge them and use again, you are in for an unpleasant surprise and will find that the job is not that simple.
After you are through with these, the costly replacement of the exhausted and inefficient batteries is going to put a strain on your purse. But everything is not lost and you can take some necessary steps to make the second hand golf cart batteries work more effectively and serve you for a considerable length of time on your EV.
The first and foremost thing to consider is how the old golf cart batteries were maintained which will determine their life span and will eventually help you to not only cut down your expenses on replacement batteries but will also help your DIY electric vehicle runs efficiently. Remember to check the batteries and ensure that there are no leakages.
If you find the batteries are damaged, take necessary steps, which will not will give a longer life span to these but will also provide optimum power to your EV and cater to your entire satisfaction. You should regularly check for any cracks and defects with the batteries as well as the terminals.

After you have setup the batteries on your electric car, you should make the cleaning of the terminals an integral part of your maintenance routine and ensure that these are free of dust, dirt and water to prevent corrosion. However, to avoid any health hazard you must adopt the necessary precautionary measures while performing your maintenance routine.
This is of utmost importance since direct contact with acid batteries can harm your skin. To remain safe, you should always use distilled or de-ionized water for maintenance and cleaning purpose. Do not forget to check the manufacturer's maintenance instructions of the batteries, which will lead to a longer life span of your batteries and bring down your replacement expenditure.
Acquaint yourself with the tried and tested measures of cleaning your electric vehicle power source, since this will ensure that your batteries work properly and also last longer. Follow the recommended maintenance routine and while performing this, ensure that the vent caps are tightly fitted.
Always use the recommended equipment and tools for maintenance and cleaning. You should also be mindful of the fact that proper charging of the batteries will ensure their optimum performance. You need to exhaust the batteries before charging and should always fully charge these; however, keep a keen eye and ensure that the batteries do not get over charged, since this will harm the batteries.
Last but not the least, filling your batteries with water up to the right level is a very important function that will ensure proper functioning of these over a long period and hence, as soon as the plates get covered stop filling water to your batteries.
If you follow these simple steps and the recommended maintenance schedule, you can ensure extended life span for the batteries on your custom made electric car, thereby reducing the necessity of early replacement of these and the associate cost, too.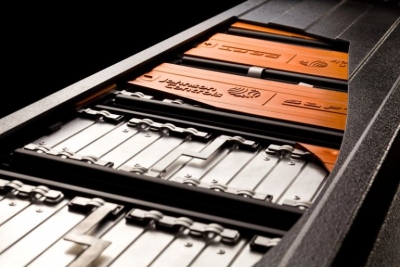 Most of the recreational vehicles or sports vehicles are equipped with lead-acid batteries, also called deep cycle batteries. These batteries are so designed that they retain the charge for a long time even without any external source of power.
However, as this type of battery utilizes lead -acid in liquid form as an internal source of electricity, it can lose the charge very fast, if not maintained well. Fortunately, there is no need to purchase a new battery for your homemade electric car if the performance of the original battery begins to deteriorate.
The original deep cycle battery can be easily reconditioned. Reconditioning of deep cycle battery is comparatively a simple job and one can take up even as a do-it-yourself (DIY) venture. However, an external battery charger is required to recondition a deep cycle battery.
In addition, certain tools and consumables, like vise grips or a crescent wrench, steel wool, a funnel, a bucket and a pair of rubber gloves are also needed. Besides these items, baking soda, distilled water and Epsom salts should also be readily available for the job.
Steps For Reconditioning Old Deep Cycle Battery
To start with, make sure that acid is not leaking from the battery. The surface of the battery should not be touched with bare hands even if there is a little leakage, instead use a pair of gloves.
The next step is to disconnect the battery by removing positive and negative cables and after that take out the battery from the case. Clean both the housing of the battery and each one of the terminals with a paste prepared from baking soda and water. Steel wool will be useful for applying paste to the battery.

Afterwards, take out the plastic plugs normally located at the top of a battery and draw off the contents of the battery cells into the bucket. If the batteries are sealed, the caps cannot be removed and in that case, try to find out if there are any soft hollow portions along the top of the battery.
Sealed batteries are generally opened and drained out by drilling holes in each of theses hollow portions, using a1/4 inch drill bit. As the battery cells are being drained, mix quarter of a gallon of distilled water and eight ounces of Epsom salts and then blend the mixture well till the Epsom salts are fully dissolved. As a next step, fill all the cells of the battery with the mixture using a funnel.
After filling, replace the caps or seal the battery once again and make it ready for re-installation. In case the battery was sealed and holes had to be drilled, then, the drilled holes can be sealed with rubber plugs, which can be easily procured from any stores dealing in automobile parts.
After the battery is sealed, hook it to a regular multiphase battery charger. Sufficient time should be allowed to charge a deep cycle battery and "Quick Start" option should never be used to charge the battery quickly. It usually takes about an hour or more to fully charge a deep cycle battery.
After the battery is completely charged, reconnect the cables and then reinstall it on your DIY electric car. In order to test the battery after reconditioning and ensure that it is working, drive around for a few minutes. It is very essential to check the battery after every drive, initially, for a few days after reconditioning.
The process of charging the battery should be repeated till the mixture of salt and water facilitates retention of charge for a longer period. As a safety precaution, reconditioning of deep cycle battery should not be undertaken in a limited space and protective eye-shades should be put on while working with uncovered cells.
Deep Cycle Battery Reconditioning Guide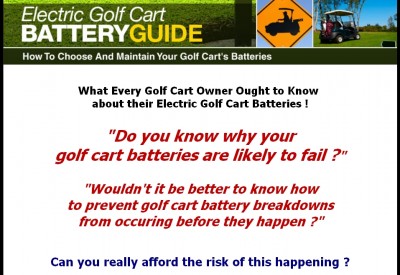 Are you looking for a step by step guide on how to recondition an old deep cycle battery? If you are, check out the Electric Golf Cart Battery guide. The ebook will teach you how to revive dead golf cart batteries which are particularly deep cycle. The ebook cost only $19.95. Click on the link below to visit the web site now!