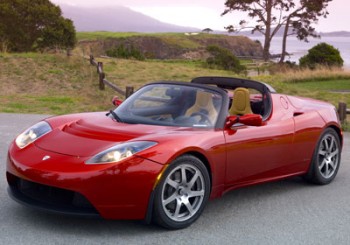 I have been keeping an eye on the
electric car
industry for over a year now. Since then, there have been a lot of new
electric car models
that have been unveiled from the manufacturers. These EVs are very practical for everyday driving. Some of the cars are not available for the time being, but the manufacturers have started taking orders. The following is my personal list of the
Top Ten Electric Car Model
.
1) Tesla Roadster – The Tesla Roadster is an all-electric sports car produced by the electric car firm Tesla Motors and is the first car produced by the company. The Roadster can travel more then 200 miles on a single charge of its lithium-ion battery pack, and can accelerate from 0–60 mph in 3.9 seconds. This is my number 1 pick because of its great sex appeal.
2) BMW Mini E – BMW announced the production of a Mini powered by an electric motor in the summer of 2008 to be called the Mini E. BMW Group will be the world's first manufacturer of premium electric vehicles to deploy a fleet of more than 500 Mini E for private use.
3) Fisker Karma – The Fisker Karma is a plug-in hybrid luxury sports sedan revealed on 14 January 2008 and manufactured by Fisker Automotive. So far, this is the closest luxury sport electric car that can rival the Tesla Roaster.
4) Chevrolet Volt – The Chevrolet Volt is a plug-in hybrid electric vehicle to be produced by General Motors. The vehicle is expected to be launched as a 2011 model with integration vehicles to be built starting on June 2009. In spite of GM bankruptcy filing, the automaker announced it remained committed to keeping the Volt on schedule. There has been a lot of buzz on the Chevrolet Volt. It looks like it could be the idea sedan electric car for the average driver.

5)
Tesla Model S
– The Tesla Model S is the second electric car model from Tesla Motors. This is a cheaper version of a sedan electric vehicle for the public. During the preliminary development stage, the car was actually codenamed WhiteStar.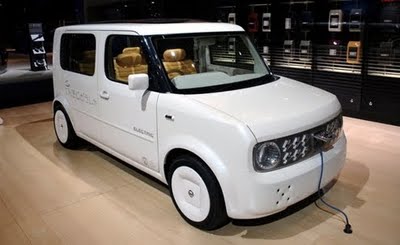 6)
Nissan Electric Cube
– The Nissan Cube is a mini MPV produced by Nissan and currently sold only in Japan, United States and Canada. In 2008, Nissan revealed the Nissan Denki (Japanese for "electric") Cube Concept. Making its debut at the March 2008 New York International Auto Show.
7) Jeep EV Wrangler – The 2010 Jeep Wrangler EV, was revealed on the 2009 Detroit auto show. The Wrangler EV runs as an electric vehicle so long as its lithium-ion batteries hold a charge. The vehicle also has a 200-kW (268 hp) electric motor that can go up to 40 miles, before a small gasoline engine kicks in. The internal combustion engine doesn't physically drive the rear wheels, but acts as a generator and feeds electricity to both the battery and the electric motor. In total, The Wrangler EV with the combination of battery and generator power is enough to travel 400 miles on a ten-gallon tank of fuel.
8) BYD E6 – BYD E6 is an all electric crossover in production by BYD Auto. Its all-electric range is expected to reach 400 km per charge. The E6 will be marketed as a 5-passenger family-oriented crossover vehicle.
9) Citreon C1 ev'ie – The Citroën C1 ev'ie is a model of electric car adapted from a standard Citroën C1 by the Electric Car Corporation. The model was first released on 30 April 2009.
10) Aptera 2e – The Aptera 2 Series is a high-efficiency passenger vehicle, currently in the final stages of design by Aptera Motors. The initial 2e model is a two-seat, three-wheeled battery electric vehicle. Aptera is currently accepting pre-orders from California residents.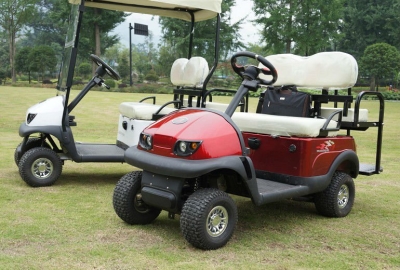 China is consider the world's manufacturing center. The country makes everything from electric tooth brush, iPhone, iPod, computers, and yes even electric car. Most of the electric cars made in China are electric golf carts or Neighborhood Electric Vehicle (NEV). Nevertheless, here is the list of Top Ten Electric Car Manufacturers In China:
1) Jinhua Golden Eagle Auto Accessories Manufacturing Co., Ltd
Established in 1967, Jinhua Golden Eagle Auto Accessories Manufacturing Co., Ltd., is a leading international trade enterprise which engaged in producing and researching series of hardware products. It lies in Flying Eagle Industrial Zone of West Yongkang city of Zhejiang.
2) Suzhou Eagle Electric Vehicle Manufacturing
Founded in 1998, Suzhou Eagle Electric Vehicle Manufacturing Co Ltd. is a leading manufacturer in China specializing in designing and manufacturing of 4 wheel electric vehicles.
3) CMEC Suzhou Co., Ltd.
CMEC Suzhou Co. Ltd. is established in 1987, also a member of CMEC Group, with headquarter in Beijing. CMEC Suzhou Co. Ltd. is the main exporter for various electric vehicles, vehicle related products and equipments and as a professional oversea project conductor. CMEC Suzhou also has business ventures in Parking System, Trains, etc.

4) Jiangmen Yetong Electric Vehicle Company Limited
Jiangmen Yetong Electric Vehicles Co., Ltd. is an overseas-funded enterprise established by Mr. Chan King Luen. Mr. Chan King Luen is the president of Hongkong Yetong Co., Ltd., former member of Guangdong Political Consultative Conference. He is now an honorary citizen of Beijing, Hangzhou, Nanxiong and Jiangmen City.
5) Interchina Industry Group Co., Ltd
Interchina Industry Group Co., Ltd. is a group specialized in manufacturing Electric Scooter, electric tricycle, electric car. Since 1999, the company has invested in some factories in Zhejiang, Jiangsu and Hebei with headquarter in Jiangsu and exporting office in Shanghai.
6) Liuzhou Wuling Motors Co., Ltd.
Established in 1996, Liuzhou Wuling Motors Co. Ltd. is a state-owned enterprise group and one of the largest 500 machinery enterprises of China authorized for running under the government of Guangxi Zhuang Autonomous Region.
7) Wuxi Celimo Vehicle Manufacturing Co. Ltd.
Wuxi Celimo Vehicle Manufacturing Co., Ltd. has become one of the largest motorcycle manufacturers in China. The company has the capacity to produce 300,000 motorcycles and 500,000 e-bikes annually. Apart from the e-bikes, the company also manufacture electric vehicle.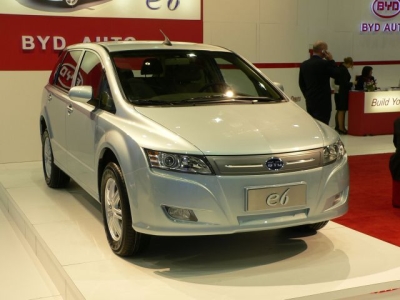 8) BYD Auto
BYD Auto is a Chinese automobile manufacturer based in Shenzhen, Guangdong Province, People's Republic of China. The firm was founded in 2003 and it is a part of the BYD Company Limited. The BYD company, established in 1995, makes 65% of the world's nickel-cadmium batteries and 30% of the world's lithium-ion mobile phone batteries.
9) Jiangxi Hongdu Voyage Industry Group Changzhou Hongdu E-Bicycle Co., Ltd.
Established in 2001, Jiangxi Hongdu Voyage Industry Group Changzhou Hongdu E-bicycle Co., Ltd. Is an enterprise under Jiangxi Hongdu Aviation Group and Changzhou Yucheng Ele. Co., Ltd.
10) China Peace Group Co., Ltd.
China Peace Group specializes in designing, producing, and selling ATVs, Motorcycles, Scooters, Go Karts, Dirt Bikes, Electric-powered Bicycles, RC CARS and Generators

The electric car industry in North American is big. The industry players in the market consist of large mainstream manufacturers that have a dedicated division for electric vehicle (EV) to smaller custom EV retrofitters. The following is a list of top 10 electric car  manufacturers in North America.

1) Chevrolet Electric
The most existing news from Chevrolet Electric is their Chevrolet Volt Electric Car model. It is a full plug-in series hybrid vehicle to be produced by General Motors. Sales of the 2011 Chevrolet Volt commenced in the U.S. in mid-December 2010 followed by various European countries and other international markets in 2011.
As of April 2013, the Volt and Ampera models have combined global sales of more than 45,000 units, and the leading market is the U.S. with 37,000 Volts delivered since its introduction in 2010.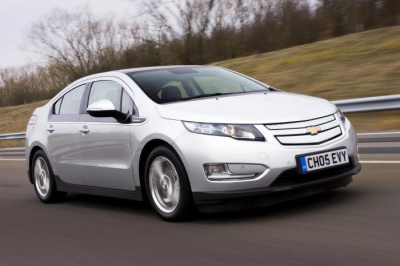 Chevrolet Volt

2) American Honda Motor Co.
Honda was the very first auto manufacturer to offer a mass-production hybrid model for the U.S. and Europe. They offer a diverse lineup of hybrid and alternative-fuel vehicles ranging from Natural Gas Vehicle (NGV) to Hydrogen Fuel Cell. Based on their track record, a pure electric car should be around the corner.
The Honda FCX Clarity is a hydrogen fuel cell automobile manufactured by Honda. The design is based on the 2006 Honda FCX Concept. The FCX Clarity is currently available for lease in the U.S., Japan and Europe. In the U.S., it is only available to customers who live in Southern California where "fast-fill" hydrogen stations are available.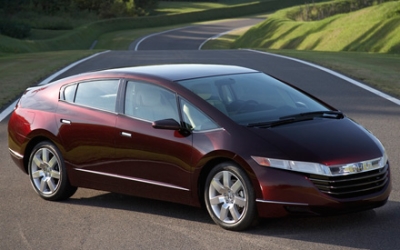 Honda FCX Clarity
3) Wheego Electric Cars
Wheego Electric Cars have trundled on despite skepticism and lack of attention. Travelling on the other side of the road from the prominent Tesla Motors and Fisker Automotive, Wheego has managed to keep adding new dealers and whisking past regulatory hurdles.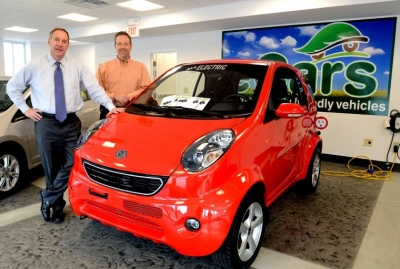 Wheego EV
4) Phoenix Motorcars
Phoenix MC, Inc. is a privately-held Delaware corporation headquartered in Ontario, California that does business as Phoenix Motorcars. The Company develops full-size, freeway speed electric vehicles.
Similar to other automotive manufacturers, Phoenix Motorcars partners with other corporations for the development and manufacture of key vehicle components, such as vehicle bodies, battery packs and drive-train components. One of their most popular models is the all electric Phoenix Sport Utility Truck (SUT) series.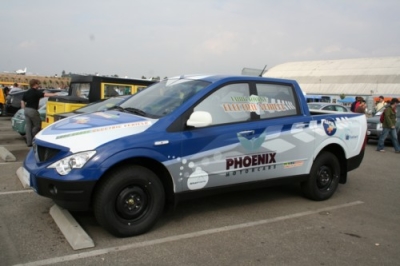 Pheonix E Truck
The ZAP Xebra is an electric car that was launched in May 2006 in the United States. It is classified legally as a three-wheel motorcycle in some jurisdictions, and is available in both sedan (model SD) and pickup (model PK) truck variants.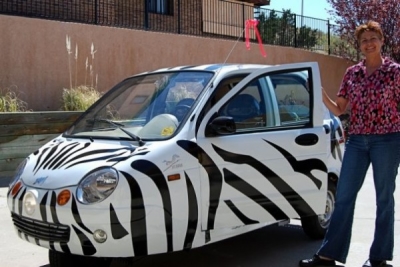 ZAP Xebra
 6) Tesla Motors
Tesla Motors, Inc. is a Silicon Valley automobile startup company focusing on the production of high performance, consumer-oriented battery electric vehicles. The firm was incorporated in July 2003 by engineers Martin Eberhard and Marc Tarpenning in San Carlos, California.
Tesla is famous for their super sexy Tesla Roadster electric car. Recently, Tesla has launched its sedan pure electric car, the Tesla Model S.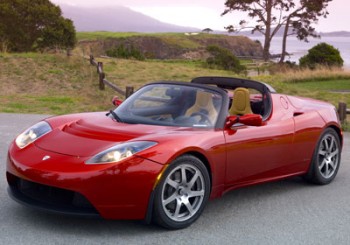 Tesla Roadster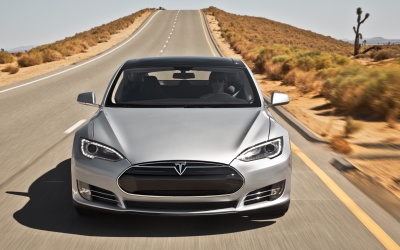 Tesla Model S
7) Myers Motors
The Myers Motors NmG (formerly the Corbin Sparrow) is a single-passenger, three-wheeled, battery electric vehicle designed specifically for commuting and city driving. It was initially produced by Corbin Motors and now by Myers Motors. The company produces Personal Electric Vehicle (PEV).
The Sparrow is powered by a 20 kW(continuous) 156-volt DC or 3-phase AC electric motor and has a range of 32 to 64 km (20 to 40 miles) and a top speed of 112 km/h (70 mph).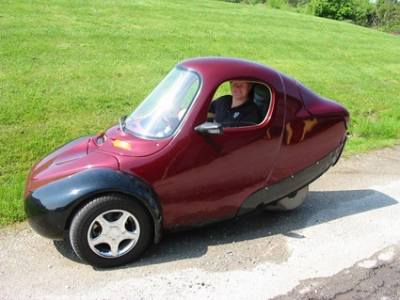 Myer Motors EV
Manufactures the Fisker Karma, a 4-door plug in sports sedan.The Karma was first introduced in 2008 North American International Auto Show. The company was founded by Henrik Fisker in 2007 with business partner Bernhard Koehler and Quantum Technologies after securing a relatively small investment from Gianfranco Pizzuto, an Italian businessman, and Palo Alto Investors.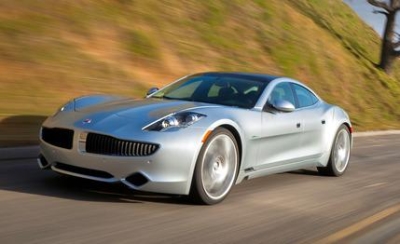 Fisker Karma
9) BYD Auto
BYD Auto Co., Ltd. is a wholly owned subsidiary of BYD Company. It was founded in 2003, following BYD Company's acquisition of Tsinchuan Automobile Company in 2002.  In late December 2008, Warren Buffett spent $230 million on the acquisition of a 10% stake in BYD Auto's parent, BYD Company.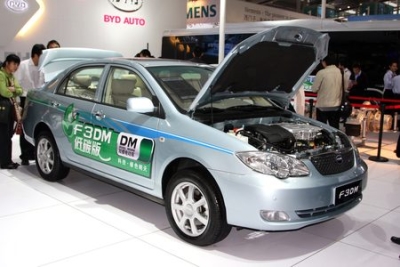 BYD EV
10) Detriot Electric
The new Detroit Electric is the revival of the old Detroit Electric that went bankrupt in 1939. Detroit Electric recently announced its Joint venture with Proton Holdings of Malaysia to produce pure electric car. Under the agreement, Detroit Electric will license two Proton vehicle platforms and contract the company to assemble the electric vehicles that will be marketed under Detroit Electric's brand.

Their latest model is the Detroit Electric SP.01 limited edition, 2 seater pure electric sport car.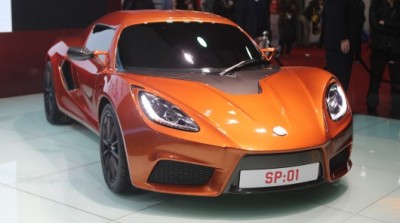 Model SP.01