In most of the houses, the garage is considered more as a storage space than a room and that explains why it is always found disorderly. However, in order to ensure lasting results, the garage should be treated as any other room in the house and follow the same basic procedures as one would adopt in organizing a room in the house.
It is not possible to sort out the articles scattered all over the garage in one weekend; it involves a lot of time to clear the mess and arrange various tools systematically in the garage. The first stage in organizing the garage is to decide in what way the garage would be used; whether as a workshop, storage space, to a certain extent as an additional room for youngsters or for parking the car as well as a tool room.
The next stage is to separate the garage into three different parts such as floor space, the garage wall with a window and the other three walls, with each one of them serving different purposes and organized accordingly. After that, the garage should be thoroughly cleaned, arranging first those tools that should be kept on the garage floor.
There can be three heaps one for garbage, the second one for garage items meant for sale and another one for storage. To start with, make into one lot all the garbage items. If it is not apparent whether some items are trash or not, those can be put in the pile meant for storage items for sorting out later.

If certain items have not been used or even seen for over a year or so, they can go to garage sale items pile. Various tools and other articles in the boxes can be left as they are till the wall space with storage racks and bins are properly set up. The process of organizing the garage should commence with disposal of garbage.
This leaves two heaps to sort out. A similar method can be adopted for the walls as well. All the articles including the one in the boxes such as hand tools, garden tools and any old shelving material should be distributed between the two remaining heaps and a third pile for collecting items that are to be thrown away should be added. In order to generate some cash, it is better to organize first sale of garage items.
What could not be sold in a garage sale can be disposed of or given away to someone. The money raised in the sale of garage items will be useful for buying garage storage units and shelving. After completion of the sale of garage items and addition of some more items that are not required to garbage dump, the work of cleaning up the garage can be taken up.
All the items in the garage should then be taken out, leaving only blank walls and a vacant floor. The cement floor should be washed thoroughly and if there are 'gyproc' walls, they should be cleaned using a vacuum cleaner. The next step is to sort out all the tools and other items in the garage and stack them based on a specific plan.
For example, hand tools should be placed in one lot, garden tools in another, and boxes should be kept in different locations in the garage. Bicycles and other heavy articles that cannot be placed on shelves should be placed in one side. This is necessary if the car is going to be parked in the garage.
One portion of the garage should be earmarked for the automotive parts and tools, oil and antifreeze. If a portion of the garage should serve as an additional room for youngsters, then the floor should be painted with cement paint so that one can use an outdoor rug to make the place comfortable. Regarding lighting, fluorescent lighting is ideal for the garage.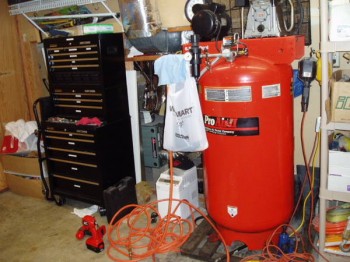 The air compressor is surely something you always want to have in your garage, workshop or machine shop. Now, owners always strive to inspect, check and look on each air compressor part on regular basis in order to be sure about its good working condition, because if it doesn't, you lose all of the advantages of having such machine.
Then, if that bad scenario happens, how would you inflate your tires or maybe air mattress when you need to do so? Or, what will happen with your other tools such as nail gun, staple gun or airbrusher? Everything relies on compressor mechanics.
That is not all you can do with your compressor. Having it in own home is partly because of its convenience. If you have a home with pool, what is must have item?
Again it is air compressor which can be easily used to inflate all those pool related stuff or tires of your car. It doesn't get much simpler to inflate them with it just before going on a long drive. Those gas station visits just because of this can be part of history now.

That is why regular checks of the compressor parts after each use are important. You can always depend on its many uses. Homeowners tend to inspect their compressors for signs of possible wear and tear after every use. Now, those inspection can help you determine whether it' s time to get Ingersoll rand compressor parts to fix and replace all parts that broke down.
Try to imagine the result of using your compressor for spray painting if the air oil separator is not functional as it's supposed to be. Broken air filters can lead down to clogging your compressor. However, with regular checks, the air compressor should be able to provide you with good, quality service in the long run.
Provided that air filter and air oil separator are in good condition will ensure that when you use compressor it won't have any hazardous effects on your health or to the environment. Making sure that these particular air compressor parts are functioning properly and not excessive building up or tearing is very important because they ensure that all dirt, oil or any other debris will not come into the air you use.
Also, if you keep it all clean there is no risk of fire hazard because there is no way that flammable oil can end on surface of your work area. Regular maintenance and proper cleaning will ensure that air emitted is perfectly good.
For many of you who like to have this kind of stuff, stuff that can improve your home buying an air compressor to power providing to various tools is certainly big advantage. You can forget about heavy and noisy motors on each of these power tools.
Just think about it, how light and simple would nail gun, drill, stapler, impact wrench or spray gun would be. Tools like this would require less maintenance and be easier to maintain than those with noisy motor parts. As these tools rely on the air compressor as power source, you have to make sure they are always in good shape.
That wouldn't be tough task at all to do if you practice routine checks and always have a supply of Ingersoll rand compressor parts handy and ready for replacements.

We usually have a place in the house where we tend to put away all old and obsolete things. One such place would be an unused or an unoccupied garage.
Over the years, the collection of such items in there will result in it being a haven of chaos. These could be garden tools, broken equipment waiting to be repaired, items that have the probability of having its parts used later, or sporting equipment, mechanic repair tools, even sometimes important things like books, or bags etc which could be left over by children unknowingly.
A disorganized garage or for that matter anything in semblance does not paint a good picture. Years of mismanagement of a garage can lead to some monetary losses also. Let's look at some ways we can clean up and arrange a garage. The effort can be time consuming and physically straining, and it's precisely these areas which put off a lot of people from venturing into the task.
The first step would be to first completely strip the garage of everything. There is no way you can avoid this step. This will help in, firstly, getting rid of the trash like old radio and music sets, obsolete items that were invaluable in their time, and garbage by itself. Then things that can be donated to charity can be kept aside. One may always land up finding things that have been misplaced over the years in this process.

Such other items may need to be relocated in the house. Things that can be recycled can fall into another category. The remaining items now will give us a fair picture of how to go about with a makeover for the garage. These will further have to be segregated into seasonal equipment, mechanical tools, sporting equipment, garden tools and as such general stuff.
You may need to start off with a thorough cleaning. This followed by a thorough inspection of any damages, or leaks, or broken furniture, any electric repairs or painting that may be required, will need to be carried out at this juncture. A visit to a home improvement store or a hard ware store at this time will be needed. The various equipment will need to be put in shelves, or cupboards or pegboards or hooks. It will be worth investing in these things to increase the life span of the various equipment.
Additional furniture like a work table will depend again on one's personal preference. Each shelf or cupboard needs to be stenciled with its name, to help in relocating quickly, especially for the non-frequent users of the garage. This goes a long way in the self-maintaining of the place.
Many readymade items for racks, shelves, cabinets specially designed for garages are available today. The garage organizing industry has been doing pretty well over the years. In fact garage furniture is a special section found in many home improvement stores. Last but not the least one must have a trash or recycle bin to dispose of any waste.
A good security arrangement for the garage can be invaluable. And maintaining things henceforth, by keeping things in its place after usage, will go many million miles to make peace, rather than spelling pieces, leading to from where we started.