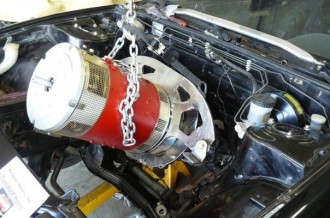 If you are planning to convert your car into an Electric Vehicle (EV), there are two key components of the whole retrofitting process.
The first is the electric motor and second are the batteries. The idea of a Do It Yourself (DIY) electric car conversion is to get the project done in your home garage to save cost.
It will usually cost your upward of $4000 to get it done in a professional garage.
To keep cost down, it is preferably for you to source the parts yourself. This posting will share some information on where you can find relatively cost effective DC electric motor for the conversion process.
One of the best place for your to source for cheap DC motor is on auction site such as eBay.
The process is quite simple. Just log into eBay and type in "DC Motor" in their search bar.
The search results will list out all available DC motor on their listing. The challenge now is to find the suitable motor for your DIY project.
What are the criteria in choosing the right DC motor?

The attributes you will have to pay attention to are RPM, shaft size, amps and voltage.
So what you are looking for is a motor that is rated for high DC voltage, low rpms and high current.
You want a motor that will put out over 12 Volts at a fairly low rpm, and a useful level of current.
As a general rule of thumb look for DC motor with RPM (revolutions per minute) ratings of under 400.
The shaft size should be over 5/8″ because that will insure that your DC motor has adequate bearings or bushings to accommodate the constant spinning and harsh outdoor treatment it will receive.
Look for a voltage between 50 and 80 volts.
If you do not find the right DC motor on your first visit to eBay, do not worry. You can try again another time.
There are many people constantly listing electric motor to be auctioned. With a little luck, you will find the right motor at the right price for your DIY electric vehicle retrofitting.
DIY Electric Car Conversion Plans
Do you want to know how to convert a normal gas driven car into a pure electric vehicle? If you do, check out the Electric Conversion Made Easy e-book by Gavin Shoebrigde.
Gavin is a New Zealander that has converted his old Mitsubishi Treadia into an electric car. His EV conversion guide comes with a series of High Definition (HD) instructional videos that will teach you step-by-step how to take a gas guzzler and turn it into a vehicle that runs only on electricity.

Related web pages:
1) Golf Cart Battery Maintenance Guide To Extend The Life Of Electric Golf Cart Batteries
2) Samuel Watson Premium Electric Car Guide Review
3) Road Sweeper Hire – A wide range of quality new road sweeping equipment for hire from Priority Plant.