Easy Way to Convert Your Pickup Truck to Electric Vehicle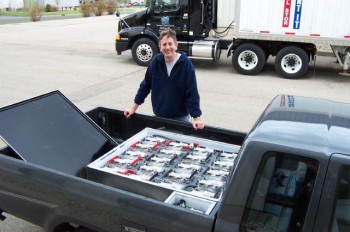 If you were to look at DIY electric car conversion projects, one of the best donor car you can choose is a pickup truck.

Why is it so?
There is one advantage a gasoline driven truck has that other normal sedan cars doesn't.
It is the flat bed storage space at the back.
The ample storage space of a truck is great to keep all the deep cycle batteries needed to power the electric motor.
An average homemade electric vehicle (EV) would need about 15 to 20 units of deep cycle batteries to supply to power needed to run the electric motor.
On a full charge, the batteries would be able to provide sufficient power to the electric motor to cover a range of approximately 50 miles.

Obviously, by adding more batteries, it will increase the mileage of your electric truck.
More batteries also means more weight and space required.
Check out the YouTube video below where a 2003 Ford Ranger truck has been converted into an electric vehicle by EV West Shop.
What is the best way to convert a truck to run on pure electricity?
If you are well versed with the internal workings of an automobile and you are good with hand tools, you can start by purchasing electric truck conversion kits.
Most of the electric truck conversion kits in the market are not the same.
Make sure you have the correct kit made for your truck model.
The key components of the kit is the joining plate.
The function of the plate is to hold the electric motor in place.
The electric motor shaft has to be perfectly aligned with the center core of the transmission.
Any misalignment will cause vibration and reduce the efficiency of the motor.
That in effect will reduce the net mileage of your electric truck.
The steel joining plates are custom made to fit the transmission housing for the specific truck model.
Therefore, choosing the right electric truck conversion kit is very important.