Do It Yourself (DIY) Electric Vehicle Conversion


If someone is considering converting their gasoline driven car to run purely on electricity via a Do It Yourself (DIY) project at home, how practical would it be?
Firstly, we have to understand that the process of retrofitting a car to electric is like "heart surgery" for the vehicle.
We are literally taking out the [tag-tec]internal combustion engine[/tag-tec] and replacing it with an electric motor.
It is fair to say that is a quite a tough job.

Not everyone would have to skill and knowledge to convert a car to electric vehicle (EV) at home. To do so, you must be well versed with the internal components and parts of the car.
You would also need to have all the necessary tools and the knowledge on how to use them.
You must have electrical and wiring skill to connect all the electrical components to the batteries through all the safety switches and fuses.
You must also have machining skills because some of the metal parts are not available off the shelves and have to be custom made.
A DIY electric vehicle project may not be a good idea for a lay person. You can try to carry out the retrofitting and most probably you would need lots of help.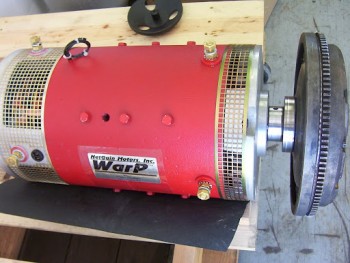 Electric Car Conversion Manual
If you don't think you can convert a conventional car to run on electricity, you should outsource the project to a professional mechanic. The best you can do is learn the ins and outs on an EV.
If you want to know what's involve in an electric car conversion project, check out Gavin Shoebridge's Electric Conversion Made Easy e-book.
Gavin made a name for himself when he converted an old Mitsubishi Tredia to run on electricity. He actually documented his conversion process on videos and posted it on YouTube.
Gavin's electric car conversion manual was written based on his actual experience converting the Tredia. The information in the manual is as detailed as it can get. He'll show you what are the parts and components he used for his EV down to the individual model number.
For those who like to learn by watching videos, there is also a series of 10 new High Definition (HD) instructional videos included with the manual. The videos go through step-by-step from choosing the right donor car to getting the car certified street legal.
Related web pages:
1) Golf Cart Battery Maintenance Guide To Extend The Life Of Electric Golf Cart Batteries
2) Samuel Watson Premium Electric Car Guide Review
3) What is an electric motor – An electric motor is a device using electrical energy to produce mechanical energy, nearly always by the interaction of magnetic fields and current-carrying conductors.