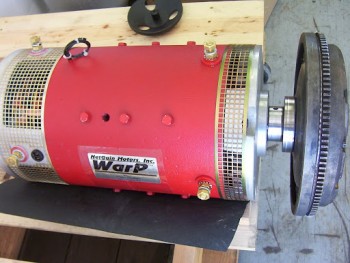 With soaring fuel prices, increasing number of people are constantly exploring various options to meet their transportation needs. Among them, electric cars are the most preferred option by numerous car owners and assembling or converting the existing cars at home from electric car kits available in the market as a do-it-yourself (DIY) task has become very popular these days.
Those having a fair knowledge of automobiles can easily make use of these kits to convert conventional gasoline-powered vehicles into electric cars that run with the help of electric current. However, converting a conventional gasoline-powered vehicle into an electric vehicle is quite an arduous task. Only people with an aptitude for undertaking mechanical jobs should attempt this job.
In order to convert an internal combustion-engine vehicle to electric vehicle (EV), practically all mechanical parts, right from the engine, the radiator, heater and air-conditioning system to the gauges on the panel are required to be either replaced or suitably altered. Above all, the electric cars need to be recharged from time to time either by purchasing the necessary equipment or availing the services of a nearest recharging station.
Solar energy is also a possible source of power for the electric vehicle. Here are a few frequently raised queries on electric car conversions and their answers.
Limitation in the choice of a car for EV.
All types of cars cannot be converted into an electric vehicle. The regular type of electric vehicle is the Chevy S-10 pickup kit. There are a few websites that furnish details regarding Chevy S-10 pickup electric conversions.
Other cars that can be used for electric vehicle conversion include the Chevy Geo Metro, particularly, the models from 1989 to 1999; the Chevy Sprint; Pontiac Sprint; Pontiac Firefly and the Suzuki Swift.

Drawbacks in using an electric vehicle conversion kit.
Earlier most people considered electric cars are quite slow and lack power to pick up speed. However, with several developments in the electric vehicle technology, the cars converted using these vehicle conversion kits can achieve maximum speeds ranging from 70 to 75 mph. Even then conversion of gasoline powered cars to electric cars has certain deficiencies.
The major shortcoming is that batteries in the electric car need recharging frequently. For example, the Chevy Geo Metro kit must be recharged every 20 to 40 miles, depending on the quality of the battery and driving speeds. In any case, converted electric cars are best suited only for driving within the city and not for long distance driving.
The Chevy S-10 electric vehicle, converted using conversion kit, will run for a longer distance on a single charge. On a single charge, one can drive the Chevy S-10 ranging from 40 to 60 miles. However, this is subject to driving habits and the quality of batteries. A few S-10 models can be fitted with solar powered panels, which would minimize the need for charging at least when driving during the bright day light.
Cost implications in converting into electric cars using electric vehicle kits.
It is quite costly to convert the present gasoline engine powered car into an electric vehicle using a conversion kit. The prices of most of the conversion kits vary from $8,000 to $10,000 excluding the cost of batteries and professional installation charges, if services of a car mechanic are required.
In addition, one should also consider the cost of purchasing a battery charging equipment, if car is to be charged at home or the distance to a charging station. To sum up, considering the costs of conversion kits, it may not be a feasible option for the average car owner, particularly for those who frequently drive long distances on the highway.
Nevertheless, it would be suitable for those who are fond of doing automobile jobs at their backyards at their homes and do not mind paying a high price for a car vehicle conversion kit.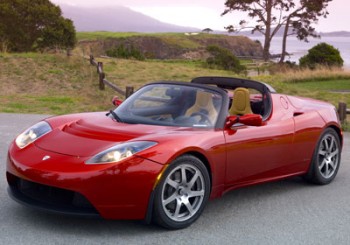 Now-a-days the media is gung-ho about electric cars and everywhere you can read about the $100,000 worth of Tesla electric sports car that is going to hit the market pretty soon. Petroleum prices have skyrocketed in the last year and everyone is feeling the pinch during their visits to the gas stations.
This has led automakers to bring out new electric vehicles and entrepreneurs across the globe are trying to secure venture capital, since nobody is concerned about recharging the batteries of their electric cars. Take the example of a person, named say Joe, who owns a Corvette, a high performance car from General Motors, which according to the company can achieve 25 miles per gallon.
If Joe drives carefully and achieves this performance then, if he commutes about 1000 miles in a month, he pays around $160 for gasoline at $4.00 per gallon. Here, he can think about buying the Tesla and will gather necessary data, not only to clear his own doubts but also to convince his family members.
An electric vehicle accelerates faster than a gasoline car and hence Joe can enjoy faster acceleration from Tesla than his Corvette. Though both electric motors and liquid fuel engines convert electric energy and petroleum fuel energy, respectively, into mechanical energy; however, these two are different devices and electric motors can generate much higher torque at the wheels at much lower turning speeds.

Nevertheless, electric motors have their shortcomings too, the main factor being they are going to pollute the environment more; so long coal is burned to generate electric energy. Another major drawback is the small number of miles that an electric car can travel after a complete recharge. Moreover, charging an empty electric battery is time consuming and the high performing batteries are not only expensive but have limited life span too.
Therefore, the overall energy efficiency of an electric car is far worse than that of a modern automobile powered by an advanced combustion engine. Both these types of vehicles need to store energy to travel; an electric car stores electric energy in its battery while combustion engine powered cars stores petroleum products in the fuel tanks.
Now let us look at the travelling cost of both these cars for 100 miles. If we assume that both cars require the same amount of power to travel this distance, then the match-up between Tesla and Corvette is perfect. The Corvette engine, which is a typical heat engine, converts energy from gasoline into mechanical energy with an efficiency of about 35%; however, electric motors convert electric energy into mechanical energy to about 85%.
The energy content of every gallon of gasoline is 131 MJ (mega joule); hence, to run 100 miles the Corvette will require 4 gallons of gasoline or 524MJ. Since, only 35% of the energy is converted, Corvette will use 183MJ to cover the 100 miles, when mechanical energy is transmitted to the rear wheels. Since both Tesla and Corvette are very similar in size and driving characteristics; virtually the same amount of energy is transmitted to the wheels of Tesla to cover the aforesaid 100 miles.
However, the Tesla will require a bit of more energy since it loses energy by charging, storing and discharging electricity in the battery, which amounts to about 15% of the converted energy and will not be available to propel the car. Therefore, Tesla will require 1.15 times of the energy required by Corvette or 211MJ to cover 100 miles.
The average price of electricity in the United States is $0.09/KWh (kilowatt hour) and the factor for converting energy measured in MJ to energy measured in KWh is 0.2778 KWh/MJ. Therefore, to cover the distance of 100 miles Tesla will require 58.6 KWh of electricity at a total cost of $5.28, whereas Corvette will cover the same distance at a cost of $16.
The Tesla costs $100,000 whereas Corvette is priced between $50,000 and $75,000. Looking at all the comparisons, you can decide about the best deal.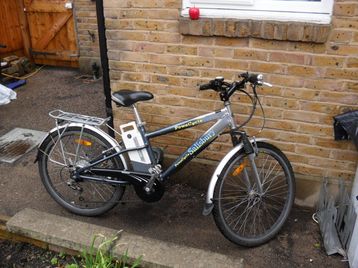 Electric bikes are in vogue and its utility is similar to the conventional bicycle. It gets an extra aid from an electric motor to accelerate in its forward motion.
Federal Law has fixed a limit on the category of its motor, which up to 750 watts of power and a speed contained within 20 miles per hour. Electric bikes commonly to adhere to the specification and there are brands that give higher speeds. The electric bicycles are in the market at cost ranging within $400 to $3500 dollars or kits costing within $500 to $800 dollars can make you one.
The quality of electric bike depends on the cost paid similar to any product purchases. The source of power in electric bicycles is from chargeable battery(s) and a single charge may take you for a ride of an average 20 miles. The mileage said are based on parameters like the heaviness of the bike, age /weight of the rider, wheel dimensions, the way of riding and the quality of surface of the road.
Electric bikes variants and dimensions are many that start from tiny e-bikes that folds with 16 and 20-inch wheels designed for commuters and apartment dwellers to 28 inch and 700c sizes for others. The legal requirements for electric bicycles do not insist on licenses or insurance coverage but age restrictions are in practice in lot of states.
All electric bikes in normal practice go for hub motor. They get fixed in the front wheel or alternatively in the rear wheel and get no support of chains, belts or gears.
The motor takes the role of the hub of the fitted wheel, which have dual concentric rings of opposing electromagnets. The battery transfers the charge to the motor so that the wheel starts rotating with the help of the opposing magnetic force. The need for maintenance as well as noise from such motors is very absent.
The wattage of the motor is the precursor of power for the motor and have a directly proportional relationship. As a buyer, here you have to be wary. The bench mark to quantify wattage are yet to come, so sellers of electric bikes project their crest output numbers as compared normal operating numbers.
An example to it is that a 1000 watts crest output number may have just 500-watt motor in its normal operating output. So, strive to know the normal operating output, which are the only gauges that are worth to match with your other alternatives in hand.

The batteries are vital in the case of such products. The amp hours (Ah) clocks the top and cost wise less in the case of the all normal sealed lead acid (SLA) battery. But, in the case of heaviness and life, SLA batteries are three times more and one third as compared to lithium battery. The cost wise, a Lithium LiFePO4 battery tops and the least ah, however, they rank high among its genre in terms of weight and life.
The one equivalent of a 48 volt LiFePO4 battery will be 12 number of 12volt SLA batteries. As far as Nickel cadmium and other batteries are in the middle of the road state. The easiness of charging is much in lightweight lithium battery as it smoothly comes out the battery rack for easy recharge within the four walls.
On the other hand in other batteries, you have to locate an outlet wherein to plug the whole bike. The ecological protection through lithium batteries are high as compared to all other batteries in the market. The cost and function of electric bikes made out of kits are better.
The existing all bicycles run well as compared to the electric bikes. If you put strain in opting for a good kit, a better motor and a battery are the rewards out of it and a best electric bike better than factory make will be in your hand. The heaviness of such bike made out of kits are lighter too.
The essential features in a good kit are motor pre fixed into a wheel (the installation part is simple for front wheel kit), two brake motor cutoff, a twist or thumb throttle, a motor controller, wiring harness, and a tamper proof battery mounting rack .
A standard kit consists of diagrams on wiring, mounting hardware, wire ties and full instructions. The electric bicycles made from hi-fi factory appear like motorcycles and weigh high. The riding comfort is poor with tough pedaling as compared to the low-priced bike or bicycle made out of kit. They also have a good appearance. It is also advisable to buy kit from a dealer who can help you out in case of difficulties and snags, which usually happens rarely.
If you plan to reassemble the existing bicycle, ensure that it is in a working condition. If the plan is to make a bike from a kit of 500 watts or more, it is advisable to take a bike with a steel front fork. The reason being the high power front wheel motors can pierce out or break the aluminum and suspension forks.
Gearing in an electric bicycle are rarely done unless you intend it to use it for mountaineering. The option of six or seven gears are enough for street bikes. The choice of a factory built bike is ideal in the case of your whole control over the vehicle as well as find it easy to ride and make sure all the desired features are in it. Electric bike allows for pedaling with freedom of the motor.
You can also pedal with the motor for extensively and use for workouts range. The noise generation is almost minimal, petrol cost and tune ups are not necessary. The emissions are not there and are freely allowed in zones where other motorized vehicles are stopped.
An electric bike can be carried in any subway and bus systems, bike trails, and bicycle lanes. The storage of electric bicycles can be easy in the house as compared to the petrol based vehicles.
All can ride can ride an electric bike and along with basic tool skills can make an electric bike conversion kit. There exist adult electric tricycles and conversion kits for adult tricycles well. These operate the similar way and can help provide best transportation options for the elderly and handicapped.
Electric bicycles are the real green transportation. They can provide very real replacement to the automobile for short range use and help clear traffic congestion, air pollution, dependence on imported fossil fuels and give you a less exercise while going about your daily life. It won't solve most of our problems but it's a good beginning.