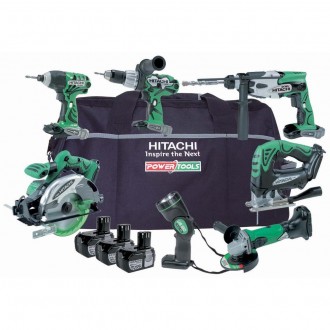 If you are frustrated with mismatched tools that are not made to work collaboratively on your DIY electric car projects, or tired of hauling around an unnecessary amount of tools, perhaps it is time to try the Hitachi KTL718C 7 piece cordless toolkit. The investment is worth the convenience this kit affords.
Forget about disorganized power tools with extra boxes and incompatible battery chargers. This kit is designed to meet the needs of a variety of jobs. With the Hitachi KTL718C toolkit, you will even receive a handy storage bag.
All of your tools can be stored in this custom Hitachi bag and carried with you from job to job. The tools in the KTL718C toolkit are all uniform in size and designed for a wide variety of tasks. If you purchase this toolkit, you can get rid of all the extra tools with overlapping functions due to different sizes, ages, and brands that you have jumbled in the back of your truck.
You also don't have to remember which of your chargers corresponds with each tool, or drag around the extra equipment. The Hitachi kit is cordless, with a combined tool weight of twenty-two kilograms, making it extremely portable.

According to the Hitachi KTL718C review, this kit can benefit several different professions, including plumbers, electricians, woodworkers and maintenance workers. This kit provides seven high-quality tools with a variety of different functions.
You can drill, grind, cut and finish all from this set of power tools. Every tool you'll ever need to get your homemade electric car project off and running. As an added bonus, you can also receive discounts when you order this kit online.
The Hitachi KTL718C kit also includes the three batteries necessary to operate it. These batteries supply power to the seven-piece toolkit for longer than batteries in most comparable kits. But the tools these batteries drive are even more remarkable than their competitors.
The DV19DSL hammer drill-driver supplies you with plenty of torque. It can be set in one of the three typical modes: hammer, drill, and impact drill. The Hitachi KTL718C toolkit also has an impact wrench with various speed settings and a reverse setting that can be easily operated with your thumb.
It will not only drive M14 bolts, but also screws from four millimeters up to one hundred millimeters. The comprehensive features and functions of these tools are too varied to name in this blog post.
The Hitachi KTL718C power tool kit has seven tools with a lot more than seven uses. This is the kit to buy if you need to multitask, but you want to make sure you have a tool to cover every job.
With the KTL718C, you can work efficiently and stay organized. These tools are bundled together for a special pricing that cannot be beaten with individual tool purchases. With individual purchases, you don't have the assurance that you are covered for a wide variety of jobs.
The KTL718C seven-piece toolkit has been designed with the latest ergonomic influences in mind. When you grab your Hitachi toolkit, you know you are prepared. Consider purchasing the power and convenience available in this kit today.