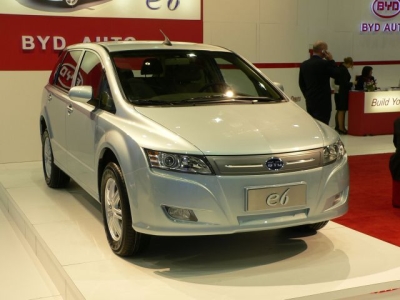 It does appear as though the future generation of automobile range would be more towards electric power rather than utilizing conventional battery power. This reason being that the cons of using batteries are by and large out-numbering the pros.
Some of the major issues noticed in the use of batteries are the bulky size, high price, and the need for frequent recharge of such batteries whenever drained. These apart, the inherent risks involved with batteries that tend to leak or explode are other reasons that make the use of batteries for automobiles disadvantageous.
From a financial angle too, batteries do not hold any great advantage. For instance consider this. Arthur Bradley, a well-known physicist experimented a pickup truck using a battery to study its operational costs. The trial was done with both types of batteries, viz. the thin plated lead acid batteries as well as the motive power batteries, known for deep discharge.
Cost-wise in both cases, the battery charge consumption appeared to be more or less the same. The latter battery albeit double the cost of the former variant did last for double the period, so ultimately there was no gain. On the other hand, making use of electric energy for operating the pickup truck was much more advantageous if one were to consider the economic viability.
Moreover, speed limits do not exceed 37.3 miles per hour so driving remains well under control while using electrically-operated automobile vehicles. Although, the new generation of batteries such as lithium-ion batteries do have an edge over the older variants of lead acid types, the benefits do not match up to the power you get from electric grid sources.

Earlier on, major problems faced by electrically-operated vehicles on the road were the connectivity to the electric power grid, the underlying risks involved with electrocution while on the move, protection against natural elements such as lightning and thunder, and the overall fundamentals related to safety.
Fortunately, unstinting research in such design requirements over the past decade, has brought about feasible solutions and these have accordingly been adopted by our company, Talbot Electric (Pty) Limited.
Space constraints within automobiles have always been a concern. Use of electric power in place of battery power helps in increasing the space. Similarly weight of the battery is heavy and this in turn creates greater resistance for the vehicle while on the move. Resorting to power from electric sources thus help in bringing down the weight of the vehicle for a smoother drive. Additionally, the chances of having a drained out battery on the road will never arise if the vehicle is electrically powered.
Further, one notices that energy consumption for heating up the vehicle battery and discharge of it is high and this may be well avoided if replaced with electric power. Thus this article gives a fair insight into the pros and cons of battery-operated vehicles viz-a-viz the electrically-operated ones.
Vehicle owners might find it advantageous for running battery-operated vehicles for short distances but if the distances to be covered are long and lengthy such as mountainous roads, then the best option is undoubtedly the electric powered vehicles with no risks of battery drainage.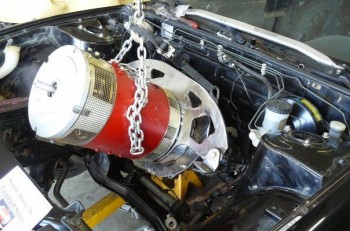 As electric vehicles are becoming more popular and people all around the world are trying to find answers to numerous questions they have about electric vehicles. Some are of the opinion that even when you use an electric vehicle, you are polluting the environment because the electricity needed to recharge the vehicle's battery comes from a power station where a polluting fuel is burnt to produce electricity.
For the sake of argument, it is true that electric vehicles too contribute to pollution but compared to vehicles which use petroleum products, pollution by electric vehicles is negligible. Electric vehicles, like the Tesla Roadster, use only a tenth of the energy used by petrol driven vehicles.
It is also very interesting to learn how electric vehicles function on less energy. Most electric vehicles have a system called regenerative breaking system built into them which charges the vehicles' battery whenever the driver applies break or when the vehicles slows down. Unlike traditional vehicles, there are very few rotating parts in electric vehicles and this feature, in turn, reduces friction.
Less friction means less energy use. A considerable amount of the energy produced by ordinary vehicles in their engine is wasted in the form of heat. An electric vehicle, on the other hand, doesn't burn fuel and there is no heat produced and wasted.
The good news for electric vehicle enthusiasts is that they now don't have to depend solely on electricity supplied by the power plants to charge their vehicle batteries. The batteries can now be recharged with electricity produced by solar panels. In the very near future, electric vehicles will be running on energy provided by the sun free of cost.

Some people have the misconception that electric vehicles are slower than their counterparts. But if you compare both the versions of vehicles, you will find that electric vehicles are not behind petroleum driven vehicles in terms of speed. Tesla Roadster is a very good example to prove this point. Of course, there are slow moving and fast running vehicles in both the categories.
An electric vehicle can gain great speed right from the moment its motor is switched on. This is an added plus point for an electric vehicle. If there is anything which people don't like about an electric vehicle, it is its cost.
Another believe among the masses is that electric vehicles are costlier than ordinary ones. Here again, there are electric vehicles which are cheaper than other vehicles which burn diesel/petrol.
The cost depends on the vehicle's features. Let us now look at the cost of driving an electric vehicle. Since an electric vehicle runs on electricity stored in its battery, it has no running cost. Electric car owners are allowed to recharge their car batteries free of cost at many public places and parking areas.
Even if you are charging your batteries at your home, the cost of driving your electric car will be just one tenth of what it would cost you to drive a petrol powered car.
New batteries which are capable of storing more electricity are under development and once they hit the market, the cost of driving an electric car will become still lower. The initial high cost of an electric car will be compensated for in the long run by the cheap fuel it uses to run. If your battery has sufficient electricity, you can even sell it back to the power grid.
The distance some electric cars can run between every recharge of their battery is around 200 miles. Some cars have inbuilt generators to recharge their batteries. New models of battery which are being researched and developed are expected to increase the mileage of the electric cars by two or three fold. From whatever angle you look at electric cars, you will realize that they are worth owning.
The cost of petroleum products will be beyond the reach of most ordinary citizens very soon and the highways will be occupied mostly by electric cars in the near future.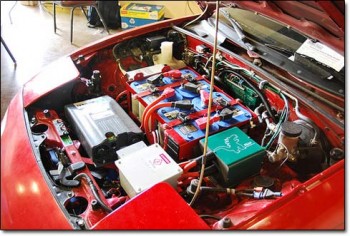 We all blame the oil companies and the oil exporting countries for the unlimited rise in the prices of gasoline. The present scenario of the economic downturn and the rising prices has almost affected everybody especially the low and medium income groups, even rich have also started feeling the pinch of rising prices.
People have started compromising with their life styles, some of the people have started trying to commute in unbearable conditions and the rich have also started flying in the classes which they used to avoid earlier. Though all this seems strange but there is a solution, but people have ignored it and have only opted for compromise with their life styles.
There is a way out; you can beat the rising oil prices by building your own electric car. You may think it to be a joke but it is actually possible and it is not at all difficult. Once you have built your own electric car, you do not have to compromise with your life style any more.

You will have to search an old car which runs on gas, some tools and an electric car guide book. People often say that it for the manufacturers to build an electric car, it not true; you can own one build yourself. It might be slightly difficult for those who have no or little mechanical knowledge about automobiles.
But there are electric car guides, which can be great help to you, you can build your own electric car that too step by step. If you are apprehensive of doing the dirty work, you can ask someone to help you; it can be a friend or a mechanic.
It is really unfortunate that big car manufacturers are more interested in gasoline cars as compared to the electric cars. Most of the countries in the world are dependent on oil producing countries to meet their gasoline demand, the United State is no exception, and everyone has to pay for crude oil.
We all have to find a way to be away from these greedy oil producing countries, which have been looting us for decades. The best option is to build own electric car, which in turn can save a lot of money which is spent on gasoline. You can comfortably visit the places along with your family using your own electric car.
You have to charge your car so that it can run for 150 to 200 miles trip without having to worry about recharging and breaking down. You do not need to have degree in mechanical or automotive engineering, the guide will show you everything and you can build your flawless electric car.
Electric car conversion is no more a secret, anybody who can read the guide can do it. Your building the electric car will not only prove to be money saver but you can also save the planet which is already doomed with the carbon emissions and noise pollution. This will be a great contribution by people like you to this planet as you will cut on both air pollution and noise pollution.