Okay, now that you've decided to start your own DIY electric conversion project, your next step is to find a good donor car for your EV conversion. Have you decided what type of car model you want to retrofit into an EV?
Most people will find this part quite challenging because there are literally thousands of different car models around. How would you choose?
One way that you can make your selection is to base it on the price of the car. Why not set a target for yourself and begin your search by identifying donor car below $1000.
If you are wondering how to find a car for sale under $1000, here are 3 tips that may help you.
1) Know what you are looking for.
The first step is to figure out what type of car that you need. Do you want a front or rear wheel drive vehicle? For DIY electric car conversion, it is best to choose a car with rear wheel drive because it is much easier to connect the electric motor to the transmission unit. For a homemade electric car, it is best to choose a donor car with a manual transmission.
2) Do your research on the make and model.
Do your own research and read as many articles and reviews on the car model as possible. Read reviews from current owners so it'll give you an idea what to expect. You can also read car consumer reports to determine whether you have chosen a reliable vehicle. The consumer reports will usually give you the car performance, repairs history and also a list of problems with the car.

3) Dig out the history of the car itself.
Check out what is the history of the car you are planning to buy. Has it been involved in any accidents? Are there any modification done to the car? Get all the information you need from the seller of the car and then determine whether it is right or not for your EV conversion project.
Car Auction Sites In the United States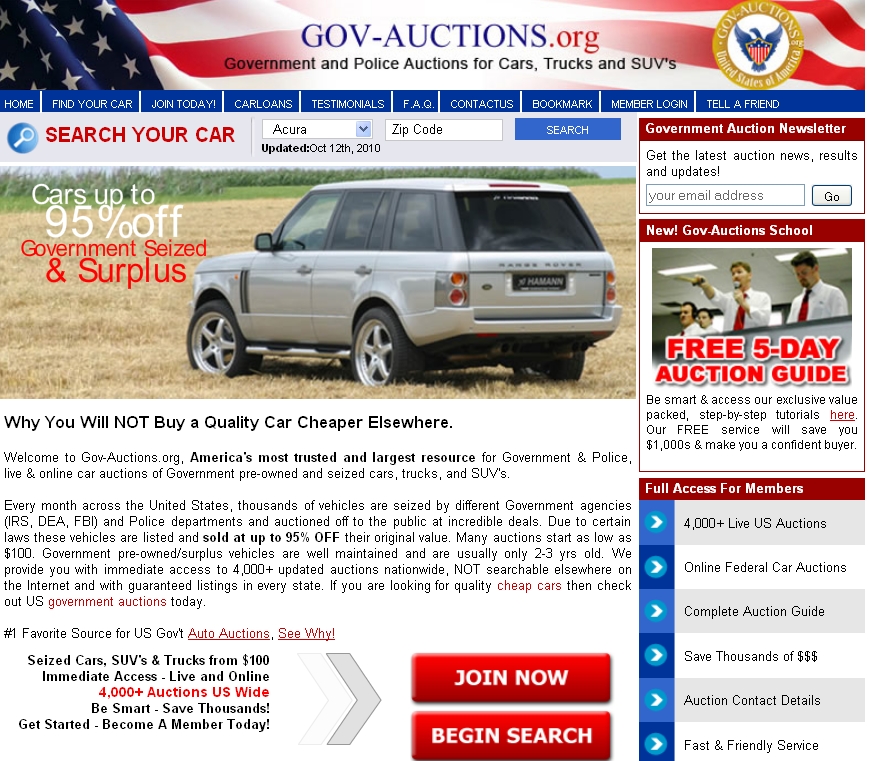 If you are from the United States, you're in luck because you can actually find cheap cars from government and police auction sales.
Every month across the United States, thousands of vehicles are seized by different Government agencies (IRS, DEA, FBI) and the Police departments and auctioned off to the public at incredible deals. Due to certain laws, these vehicles are listed and sold at up to 95% off their original value. If you are lucky, you can get car deals way much better from any used car dealerships. You can save a lot of money if you know how to find these types of government auctions.
If you are planning to look for government auctions on cars, use the service provided by www.gov-auctions.org/. They have a search function that will list down all the cars available for auction based on the model and also location. Check out their service right now to find cheap cars!